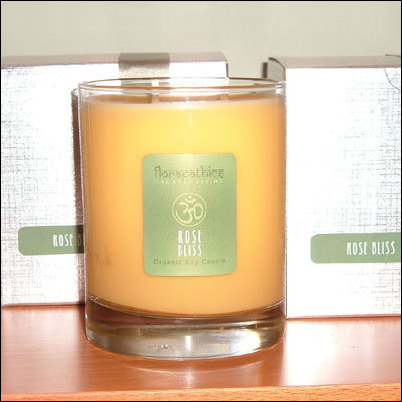 HOUSTON (PRWEB) January 19, 2006
Houston-based Florapathics LifeSpa and Aromatherapy Collection has a Valentine's Day gift idea that cuts through the usual clutter. A Valentine's Day twist: Rather than sending a dozen roses, giving the Rose Bliss candle is the equivalent of sending a field of roses.
Each candle derives it scent from Rose Absolute—a distillation of the finest scent roses, Rosa damascena, grown in Bulgaria. It takes 20 tons—40,000 pounds—of these rose petals to make one pound of Rose Absolute. Each Rose Bliss candle incorporates one-half ounce of Rose Absolute, so approximately 1,250 pounds of petals must be distilled to make the quantity of Rose Absolute blended into each 3-inch, 11-ounce candle.
The Rose Absolute is added to organic soy wax and hand-poured into glass containers with lead-free cotton wicks. The candles burn for about 60 hours.
"The Rose Bliss candle at $249 says 'I love you,' in a big way," said Michael Thompson, president of Florapathics. "You will definitely make a lasting impression for giving a gift so unique and special." Thompson said that Rose Bliss is not the cloying, overly sweet, artificial scent we might associate with Grandma; rather the Rose Absolute is the fresh, clean scent of roses as they smell growing in the garden.
For budget-conscious Valentine's Day shoppers, other special gifts are available with the Rose Bliss scent including body lotion, shower gel, hydrosol, linen and room spray, smaller votive candle, and rose absolute.
Florapathics, LLC is a Houston-based apothecary and retailer of organic essential oils and aromatherapy products, dedicated to the organic lifestyle. The Aromatherapy Collection is available online at http://www.florapathics.com or in store at 2015 West Alabama, Houston, Texas 77098.
# # #