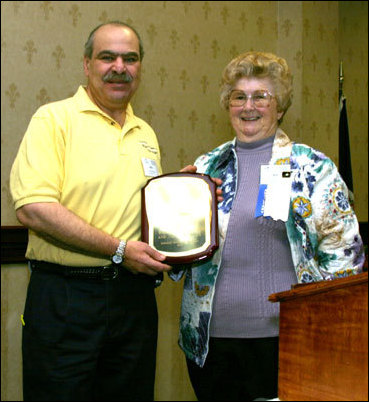 never ending desire to reshape and reinvent itself in an ever-changing world.
Roanoke, Va. (PRWEB) January 20, 2006
AuctionServices.com, which provides Web hosting to more than 400 individual auction firms nationwide, was recently recognized by the VAA for outstanding contributions and support in 2005.
"Nancy and I feel blessed to be part of, and to serve, one of the few professional industries left that still has family values, and gives you a warm fuzzy feeling. I consider all the members of this great association as members of our extended family," Romanus said.
The award was presented at the organization's annual convention held in Richmond, Va., on January 14, 2006.
Owners of the Roanoake-based company, Richard A. Romanus, president, and his wife Nancy Romanus, vice president, were inducted that night into the VAA Auxiliary as honorary members.
"The Auxiliary to the Virginia Auctioneers Association could not honor anyone, or any group of individuals who have done more for the Auxiliary," said VAA Historian Ann Peoples.
In addition to Web hosting, AuctionServices.com also designs, promotes and markets sites for 17 state associations, as well as for the National Auctioneers Association.
This is the second time the company has been honored by its home state's association. The first time was in 2000, when the couple received a Distinguished Service Award in recognition of the exceptional service AuctionServices.com has consistently provided to the members of the VAA.
The company began hosting the VAA Web site, http://www.vaa.org, in 1998 and today, it is one of the most powerful tools the association uses to relay information not only for its members, but for individuals looking for auctions or auctioneers in the state of Virginia.
Romanus said he remains committed to the organization and to its "never ending desire to reshape and reinvent itself in an ever-changing world."
About nationalauctionlist.com: The National Auction List (http://www.nationalauctionlist.com) is the Internet's largest online database of live auctions powered by AuctionServices.com. In addition to the hundreds of auctioneers hosted by AuctionServices.com, thousands of additional auctioneers list their auctions on the National Auction List. Many of these Auctioneers are members of the National Auctioneers Association and state auctioneer associations from coast to coast.
###