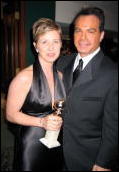 Malibu, CA (PRWEB) January 21, 2006
The Golden Globe's after parties were a lot more interesting this year, thanks to the attendance of Eric Schiffer. Mr. Schiffer is one of Hollywood's most charming bachelors and socialites. He is a top selling author and entrepenuer with his next book, "Rock Star Entrepenuer" due to come out soon.
The Golden Globes is known for bringing out the best and brightest, this year was no exception. Eric Schiffer was definitely at the top of everyones "must get to know" list. With his notable philantropic projects and his grasp of the political situation of today, Eric commanded the attention of the top, A-list crowd.
Mr. Schiffer was spotted with Golden Globe Winner Cathy Konrad, Singer Kimberly Caldwell and actress Vanessa Marcil. Later that evening, he was seen at The Polo Lounge entertaining Russell Crowe, along with members of the rock band "Scorpions" and "ZZ Top"!
Hollywood needs to keep an eye out for this guy...no party is complete without him!
# # #