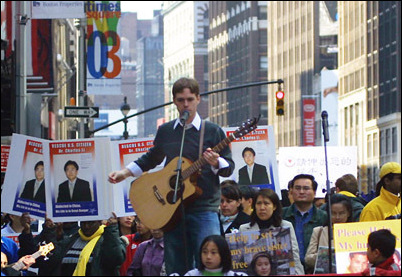 National Free Charles Lee Week
(PRWEB) January 19, 2006
Independent artist Drew Parker has just released the song "Free Charles Lee," a non-profit single to help ensure an American citizen's freedom from an unjust and brutal prison term in Communist China. Dr. Charles Lee is scheduled to be released January 21st, 2006. These next few days are the most critical for Dr. Lee as past experience shows that he may now be entering the most dangerous period of his detention.
Supporters of Dr. Charles Lee around the nation hope that radio stations, media, and the general public will take part in the, "National Free Charles Lee Week," by playing "Free Charles Lee," doing a story, or signing an online petition.
In the past 3 years Charles has been tortured—handcuffed in excruciating positions for days, tied to a board with his limbs painfully outstretched for long-periods of time, deprived of sleep, and repeatedly beaten. During daily "re-education" sessions, guards have forced him to sit completely still and stare blankly at propaganda videos for hours on end. Charles was force-fed through the nose with a hard plastic tube, which was then left for thirty-three hours, causing extreme pain. All this happened because Dr. Lee went to China to peacefully expose the Chinese Communist Party's (CCP) brutal persecution of Falun Gong. From the very beginning, Chinese authorities have repeatedly denied that the arrest of Dr. Lee is connected with his personal belief and his practice of Falun Gong. If this is the case, why such violence and coercion to force him to give up his beliefs?
As Americans we uphold the freedom of belief, we uphold basic human rights. Join us as we help to bring Charles Lee home and ensure his freedom and safety on January 21st, 2006.
Our urgent concern is that the CCP will arbitrarily extend his sentence as they have done many times before in other cases. Dr. Lee may also be intensely tortured before his release in an attempt to break his spirit, as was done with former prisoner of conscience Zhao Ming, a student at Ireland's Trinity College.
You can make a difference:
Playing this song or covering this story generates public awareness--download it and learn more at http://www.drewparker.com
By visiting http://www.rescuecharles.org, the public help can Charles by signing a petition or contacting the US government and urging them to guarantee that Dr. Lee is released on time and in good physical and mental health.
For interviews and analysis on Charles Lee's case, please contact Dr. Sherry Zhang (415-845-5295) or Drew Parker (919-294-0069) For additional news stories, visit: http://www.faluninfo.net/fdifocus.asp?FocusType=Charles_Li
# # #