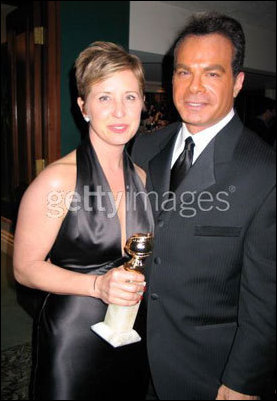 The Fabulous Baker Boy's), Supermodel Rachael Hunter, and Morris Day (
Beverly Hills, CA (PRWEB) January 19, 2006
The Golden Globe's after parties were a lot more interesting this year, thanks to the attendance of Eric Schiffer! Mr. Schiffer is one of Hollywood's most charming bachelors and socialites -- and a top selling author, business guru with his next book due to come out soon.
The Golden Globes is known for bringing out the best and brightest, this year was no exception. Eric Schiffer was definitely at the top of everyones "must get to know" list. With his notable philantropic projects and his grasp of the political situation of today, Eric commanded the attention of the top, A-list crowd.
Mr. Schiffer was spotted with Golden Globe Winner Cathy Konrad, American Idol Singer Kimberly Caldwell and actress Vanessa Marcil. Later that evening, he was seen at The Polo Lounge entertaining Russell Crowe, along with members of the rock band "Scorpions" and "ZZ Top"!
According to a veteran of the Hollywood party circuit, "Hollywood needs to keep an eye out for this guy...no party seems complete without him!"
Schiffer recently starred in the recently released Monarch Entertainment film "Boys Klub" starring Beau Bridges ("The Fabulous Baker Boy's), Supermodel Rachael Hunter, and Morris Day ("Purple Rain").
Eric Schiffer previously starred in a cameo performance role alongside Jeff Conway ("Taxi" and "Grease") in Showtime's "Gentlemen's Club" and opposite Robert England ("Nightmare on Elm") where Schiffer plays himself in a cameo action hero performance role. Eric Schiffer also filmed a cameo appearance alongside Faye Dunaway ("Network" and "Mommy Dearest") and Robert Wagner ("Austin Powers") in a yet unreleased project called "Kiss of Death." In the starring cameo role, Schiffer plays the husband of Supermodel Rachael Hunter.
Schiffer has long since been an icon for business leaders and corporate leaders. "Eric Schiffer's fan base continues to build around the world and the recent cameos keep his fans happy," says a senior representative from the publisher of Emotionally Charged Learning (http://www.EmotionallyCharged.com), Franklin Integrity Press. Schiffer, already famous from his bestselling book "Emotionally Charged Learning", seems to continue to draw interest from Hollywood. A Schiffer representative confirmed to E! Online that Schiffer is in final discussions to appear in several upcoming features.
Schiffer, will release his newest book in the fall of this year.
# # #