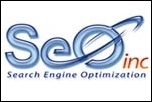 Phoenix, AZ (PRWEB) January 23, 2006
http://www.seoinc.com -- Industry leading search engine optimization firm, Search Engine Optimization Inc. has announced that Garry Grant (CEO of SEO Inc.) and Aaron Shear (CTO of SEO Inc.) will both be speaking at the Internet Marketing Strategies Interactive Symposium in Phoenix, Ariz., Jan. 26-27, 2006.
Aaron Shear (CTO, SEO Inc.) will be joining panelists Andy Beal (President & CEO, Fortune Interactive), Jeff Herzog (Chairman & CEO, iCrossing Inc.), and Katherine Craig (Director, Online Marketing & Distribution, Starwood Hotels and Resorts Worldwide Inc.) for the 'Organic & Paid Search Strategies' session.
"Many companies are starting to implement search engine marketing campaigns," said Aaron Shear, CTO of SEO Inc. "Search engine marketing is one of the most effective marketing techniques on the Internet and this session will deal with what techniques to use, when to use them, and how to use them effectively. If you're interested in improving your marketing online, don't miss it."
Garry Grant (President & CEO, SEO Inc.) will be facilitating the roundtable discussion on 'Optimizing for Best ROI'. In this session, participants will be given the chance to drive the discussion to focus on their key issues and concerns.
"More and more companies are finding they can optimize their marketing campaigns and receive a greater return for their efforts," said Garry Grant, President and CEO of SEO Inc. "This session will highlight the techniques companies can use to optimize their marketing investment for higher returns."
The symposium features leading marketing minds from major companies, including: Clear Channel Communications, Dow Corning, Kraft Foods, Hershey Food Corporation, Marriot International, and Starwood Hotels and Resorts.
About Search Engine Optimization, Inc.:
Search Engine Optimization, Inc., the Internet's premier search engine company, leads the industry in achieving top search engine rankings for clients seeking greater online visibility. We improve clients' placement in search engines, and leverage this visibility to help our clients improve their Web branding, increase sales, and maximize ROI. We have produced impressive results for blue-chip clients such as Microsoft, VEGAS.com, IGN.com, Beaches and Sandals, usually yielding an immediate ROI.
Contacts:
Meera Gupta
Search Engine Optimization, Inc.
1-877-736-0006
http://www.seoinc.com/
Michael Nguyen
Search Engine Optimization, Inc.
1-877-736-0006
# # #