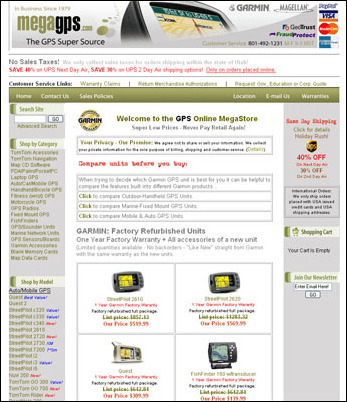 We offer quality products at wholesale prices to the public
Alpine, UT (PRWEB) January 24, 2006 –-
Now it is possible to buy affordable GPS items from people who actually know GPS systems. MegaGPS is a Fully Authorized Online Dealer offering GPS for sale at prices better than retail store prices.
The site offers shoppers the latest technology related to Global Positioning Systems (GPS), accessories, and software. The inventory includes GPS car navigation systems, GPS chart plotters, GPS sounder equipment, and popular models by Garmin GPS and Tom Tom GPS.
The owners of MegaGPS have run wholesale business operations since 1979. "We offer quality products at wholesale prices to the public," says Marianne Henderson, co-owner of the site. "And we also offer real people to help you find what you want and follow up after the sale if needed."
The best features of MegaGPS are the large inventory, same day shipping, real people who know GPS, and the company's commitment to follow-up service on returns and warranty replacements. The site is fast, secure, and easy to use. Finding exactly what you want is easy because MegaGPS allows you to select from a list of specific models, such as the Tom Tom Go 700, or to review entire product categories, such as GPS auto navigation.
MegaGPS also is the best source for accessories such as GPS car mount pieces and additional software for units made by Garmin GPS systems and other major manufacturers. The site offers everything necessary for users to customize their equipment and achieve the highest level of functionality. The company's Tom Tom GPS and Garmin GPS sales have been especially strong.
The well-designed and informational site at MegaGPS.com offers a tremendous opportunity to shoppers who want to buy GPS online for fun or for work. Anyone who wants Tom Tom GPS, Megellan, Lowrance, or Garmin GPS systems will appreciate working with MegaGPS, a Fully Authorized Online Dealer for each of these brands.
About MegaGPS:
MegaGPS is owned by Guaranteed Merchandise, which was established in California in 1979 to provide quality products at wholesale prices. The company currently is located in Utah, which provides an ideal location of Internet fulfillment. The owners are Marianne and Greg Henderson.
###