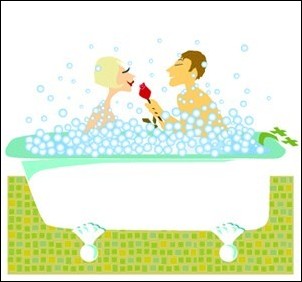 We think of these healthful and delightful products as implements of a reconnecting ritual, but the real magic is in the bonding that occurs during the mutual treatment
New York, NY (PRWEB) January 21, 2006
For couples looking to reconnect on an intimate level, Dorit Baxter's New York Spa introduces a unique Valentine's Day gift that will put the verve back into relationships. Reconnecting Essentials, a collection of four romantic products, teaches couples to pamper each other from head to toe without having to leave their home.
Couples can reconnect while enjoying the invigorating effects of Dorit Baxter's Sea Salt Scrub for back rubs, Aromatic Shampoo for scalp massages, Foot Cream for foot massages, and soul-satisfying Aromatherapy Oils to enhance the intimacy of the moment. These relationship-nurturing products will help couples rejuvenate bonds worn down by the daily grind.
"We think of these healthful and delightful products as implements of a reconnecting ritual, but the real magic is in the bonding that occurs during the mutual treatment," says Baxter. "Reconnecting Essentials is a fun and creative way for couples to create a romantic moment that lasts a lifetime."
Included with the Reconnecting Essentials gift is a fun and informative session with a spa expert who introduces couples to the reconnecting ritual and the use of the products.
About Dorit Baxter's New York Spa:
In the last month of 1989, Dorit Baxter ushered in the 90's when she opened one of the first day spas in the U.S. Time Magazine defined Baxter's trend-setting spa in a feature (July 22, 1991) introducing its readers to the possibility of frequently grabbing a few beautifying and peace-inducing hours in the midst of a frazzled city. In the twenty-first Century, Dorit Baxter is introducing treatments based on technological innovations in the beauty industry while keeping to the spirit of a kind-and-gentle approach to skin care that remains the spa's defining attribute. For additional information on Reconnecting Essentials, contact Yaffa Rabe, http://www.newyorkdayspa.com or call: 212-371-4542.
###