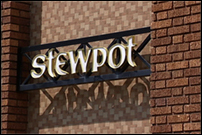 Our DVD communicated that the Stewpot is much more than just a soup kitchen.
Dallas, TX (PRWEB) January 26, 2006
Motion Media Solutions has won the 2005 Communicator Award of Distinction in the External Communications/Non-Profit category for "Stewpot", a DVD it produced for a ministry of First Presbyterian Church in Dallas. The award recognizes "Stewpot" as a project exceeding industry standards in production and communication skills.
"The staff and board are so grateful for Motion Media Solutions' work," said Rev. Dr. Bruce Buchanan, Director of the Stewpot. "We anticipated a difficult fundraising year, but with this DVD, we were able to raise public awareness to a new level. This was especially significant in a year where we saw such a huge increase in homelessness and poverty due to Katrina and Rita."
"It was a privilege working with one of the most respected non-profit institutions in Dallas as it celebrated its 30-year anniversary of serving the homeless," said Ross Mason, CEO of Motion Media Solutions. "Our DVD communicated that the Stewpot is much more than just a soup kitchen."
First Presbyterian Church began this ministry (Stewpot.org) in 1975, and "Stewpot" was released in October at the anniversary dinner attended by over 450, raising over $130,000. The DVD has been used at other recognition events, which helped to meet annual budget needs of $1.3 million, a 6% increase over 2004! The Stewpot will continue to use the DVD as an effective communication tool. It features many of the services provided, including FREE voicemail and postal services, drug and alcohol counseling, mental health, medical and dental services, identification and employment services. It also illustrates the many programs available for children.
Motion Media Solutions worked closely with the Stewpot staff on a creative strategy and script, capturing many hours of video over several weeks, and designing graphics to complement how the organization is portrayed.
"We were honored to receive the award", said Mr. Mason. "It demonstrates that great video can be created for organizations like Stewpot, helping them communicate their story cost-effectively...increasing funding and local participation."
Motion Media Solutions produces educational, inspiring and motivating programs for churches, non-profit organizations and foundations.
View "Stewpot": http://www.motionmediasolutions.com
Contact:
Motion Media Solutions - your message. our solutions...
302 N. Market Street Suite 425 Dallas, TX 75202
214-764-0940
877-31-VIDEO
http://www.motionmediasolutions.com
###