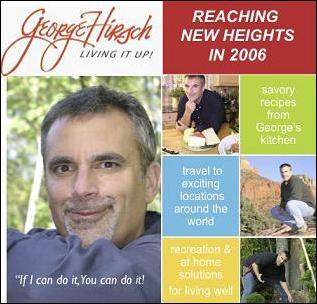 It is the opinion that www.georgehirschliving.com [George Hirsch] is more popular than the others and the PD really loves the show.
Las Vegas, NV (PRWEB) January 23, 2006
George Hirsch's fast-paced lifestyle TV show, "George Hirsch Living It Up!," is a "firm go" for season two in syndication releasing fall 2006. The lifestyle series is filled with helpful home solutions, savory easy to prepare recipes, world-class locations and a wide range of recreational activities delivered in a most entertaining and engaging format. The 26 weekly, half-hour shows from Hirsch Productions are distributed by the Television Syndication Company (TVS).
During its first season, the "George Hirsch Living it UP!" TV show received smashing reviews from network affiliates and independent stations that reached over 70 million households. WJAL of Washington, D.C. commented, "George Hirsch is a wonderful show, well produced and very well received." And WSFJ of Columbus, OH, which airs "George Hirsch Living it UP!" between P. Allen Smith and another home show, said, "It is the opinion that George Hirsch is more popular than the others and the PD really loves the show."
Hirsch has a rich sense of humor and a positive attitude, which colors each TV show. "In my series I'm able to feature new ways my audience can experience a better life. Each episode is different, as we explore food, recreation, travel and home solutions for living well," he said.
Video Clips of George may also be viewed at http://www.georgehirschliving.com
Created, hosted and produced by Hirsch, each episode contains six lifestyle segments beginning with George's cooking segment in his home kitchen. At the conclusion of each TV show, George assures his nationwide audience each week, "If I can do it, you can do it!"
As a five-time best selling author, lifestyle guru George Hirsch has reached a global audience through U.S. Syndication, his eight previous PBS series and on in-flight entertainment for more than a decade.
See George Hirsch at NATPE in the TVS Suite #6804 at The Hotel at Mandalay Bay on Tuesday 2:00-4:00PM and Wednesday 11:00AM-Noon and 3:00-5:00PM.
About TVS
With as many as seven series currently broadcasting to U.S. viewers including: "Real Life101," "Ultimate Choice," "The Tribe," "Crash Bang Splat," "P Allen Smith Gardens," and "Junk'd;" syndicator TVS serves the world's television, video/DVD, in-flight and educational markets with a distinctive catalog of some 6000 hours of programming ranging from game shows, lifestyle series, kids series and reality TV show programming.
Contact:
Hirsch Productions
Nancy Winter
631.725.8516
nancy@georgehirschliving.com
http://www.georgehirschliving.com
###