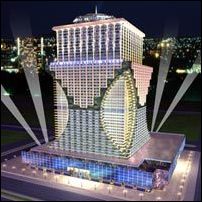 Mesa, AZ (PRWEB) January 24, 2006
IllustriousHotel.com, the net's first and only virtual hotel portal for advertising online businesses is proud to announce it's launch on January 23rd 2005. The Illustrious Hotel a website modelled and architechted to be lifelike, was constructed to give online businesses the opportunity to promote their website by leasing hotel suites.
Suites ranging from Standard, Deluxe, to the Penthouse suite, are available for reservation, with each suite being a unique advertising portal. Various companies from small businesses to large corporations can lease virtual hotel suites to advertise their products and services in a creative atmosphere with the goal of being an inimitable marketing tool. Each business that leases a suite at the Illustrious Hotel will be given the opportunity to set up their company banner/ logo and promote their business within their business suite, therefore generating more traffic to their website.
The creators of the Illustrious hotel (Rely Sites Network) pride themselves on providing the visitors and tenants not only with a creative marketing tool, but in addition, nonstop entertainment value, which is synonymous with hotel chains of its caliber. The Illustrious Hotel located at http://www.illustrioushotel.com provides continued updates on 100% unique show attractions,ranging from magic novelty acts featuring "The Amazing Chearlis", to currently in production shows such as the Haunted House show. Thus providing and generating additional traffic from the returning visitors and/or those that visit through word of mouth, not wanting to miss out on the variety the website bestows.
Without further delay, you can visit http://www.illustrioushotel.com , the internet's first virtual hotel advertising portal.
About Illustrious Hotel
Illustrious Hotel was founded by a team of internet pioneers who together formed their business as the Rely Sites Network. Their development of The Illustrious Hotel is one of the many innovative ideas that will be produced by this core group. Currently in development will be a chain of virtual hotels with unmatched parallel.
Contact Information
Melecia Niles, Press Relations
Rely Sites Network
(623)-444-2501
http://www.illustrioushotel.com
# # #