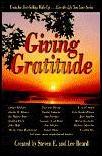 . In her article on gratitude, Eileen tells of the fun (and work) of building successful marketing strategies and business plans with her clients that at first seem to be almost impossible to achieve but with vision, perseverance and a leap of faith can be achieved. She also provides some tips on how to find your passion for meaningful and engaging work. She says
Calgary, AB (PRWEB) January 23, 2006 -
Eileen Ashmore of E.M. ASHMORE & ASSOCIATES INC., a Calgary business woman and co-author of the book Giving Gratitude in the popular Wake Up Live Series, hits the Barnes & Noble Hourly Top 100 best seller list. Eileen Ashmore is President of E.M. ASHMORE & ASSOCIATES INC., a Calgary firm focused on research, marketing, and business planning. The firm is responsible for building strong business and marketing strategies which have received high praise from clientele.
Hovering between #6 and #7 for a number of hours on Wednesday January 11, 2006, Eileen Ashmore is joined by co-authors Dr. Wayne Dyer, Gregory Scott Reid, and 50+ other authors. Eileen Ashmore writes about her experience of gratitude in working with her clients to build business and marketing strategies to move their firms forward. The title of the article is borrowed from a famous quote by Walt Disney - ''It's Kind of Fun to do the Impossible". In her article on gratitude, Eileen tells of the fun (and work) of building successful marketing strategies and business plans with her clients that at first seem to be almost impossible to achieve but with vision, perseverance and a leap of faith can be achieved. She also provides some tips on how to find your passion for meaningful and engaging work. She says "It's an amazing experience I think everyone should have once in their lifetimes. For those of us running a business, good marketing plans and targeted promotions will provide upside just not as instantaneous as this experience."
Wake Up … Live the Life You Love – Giving Gratitude is part of the popular and successful Wake Up … Live the Life You Love series by the extraordinary motivational entrepreneurs, Stephen E and Lee Beard. You can order a copy of this inspiring book by going to http://www.ashmore-assoc.com and clicking on http://www.barnesandnoble.com.
About E.M. ASHMORE & ASSOCIATES INC.
E.M. ASHMORE & ASSOCIATES INC. is a management consulting firm specializing in strategic planning, marketing strategy and planning, and, customer/marketing research. In its 20th year, the firm has completed over 175 projects since its inception. The firm works with and supports client teams in building strategies that move their firms forward.
Our business philosophy is: 'If the purpose of a business strategy is to sustain growth and profitability, the purpose of a marketing strategy is to accelerate growth and profitability.' Our mission is: 'To discover and communicate business truths that lead each and every client business to greater on-going sustainability, increased success and greater prosperity.'
Stay tuned as Eileen Ashmore, President of E.M. ASHMORE & ASSOCIATES INC., will be completing a handbook on marketing techniques and strategies for executives for publication in the fall of this year. To reach E.M. ASHMORE & ASSOCIATES, call 403 252 0799, Fax 403 251 0788, email info@ashmore-assoc.com or visit the website at http://www.ashmore-assoc.com.
Copyright 2006 E.M. ASHMORE & ASSOCIATES INC. Calgary, Alberta, Canada
E.M. ASHMORE & ASSOCIATES INC.
#300, 1131 – Kensington Road N.W., Calgary, Alberta T2N 3P4
Phone 403 252 0799 Fax 403 251 7799
End
###