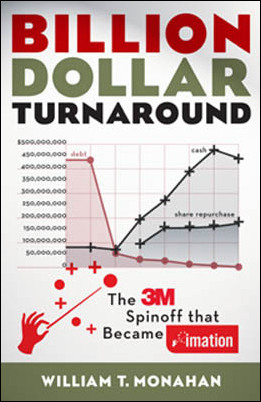 Lean Transformation: How to Change Your Business into a Lean Enterprise
Richmond, VA (PRWEB) January 24, 2006 ––
In the wake of the announcement Ford Motor company will cut 25,000 to 30,000 jobs and idle 14 plants in North America, Stephen H. Martin, publisher of The Oaklea Press said, "This is definitely a move in the right direction. American automobile manufacturers have tried unsuccessfully too long to compete with the Japanese using the old mass manufacturing model. It cannot be done. They need to fight fire with fire and this means adopting the lean manufacturing model."
Martin is the editor of two books that tell how to successfully compete in the global marketplace: "Lean Transformation: How to Change Your Business into a Lean Enterprise," and "Billion Dollar Turnaround: The 3M Spinoff that Became Imation." The former explains how manufacturers can transfrom from mass manufacturers to lean manufacturers such as Toyota. The second tells how a U.S. company, Imation, was able to beat the Japanese at their own game and become world leader in digital storeage media, now with twice the market share of either Fuji or Maxell––its closest competitors––which are both Japanese companies.
Martin said that for a variety of reasons, a lean operation typically turns out higher-quality products than a mass manufacturing cousin. It almost always requires 25% to 40% less direct labor. It uses about half the floor space because no room is required for work-in-progress. Warehousing costs are cut to the bone because finished-goods and parts inventories are normally reduced from several months' to only a few days' supply.
Many American manufacturers caught onto this in the early to mid 1990s and have now adapted to the new way. These companies are able to compete in the global marketplace no matter in what country or location their products are assembled. Dell Computer, for example, builds products all over the world, including the United States, as does Toyota.
Martin said that in the last five years more and more domestic manufacturers have begun converting to lean manufacturing, which accounts for sales of more than 50,000 copies of the book, "Lean Transformation." He said the biggest problem they run into is easy to identify but difficult to overcome. It is often the real reason behind the closure of a plant. People in middle management and in supervisory positions must shift from a "command and control" mentality to that of "team leader."
Martin said, "If they don't (change the way they operate), the lean model won't work. Those who have been operating in the command and control mode all their lives usually find this difficult. For many it may be impossible. Often, top management may find it quicker and easier to scrap a factory and start over somewhere else, perhaps in another country or another state, than to spend time and money teaching old dogs new tricks."
He went on to say that studies show that workers in a lean enterprise are happier with their jobs than those in traditional businesses. "Why wouldn't they be?" he said. "They are no longer viewed or treated as unthinking robots. Because the hierarchy has been eliminated and no supervisor is breathing down their necks, they must use their heads, make decisions, and solve problems in consultation with other team members. The only downside––and whether it is a downside depends on your point of view––is that there are fewer of them. When a factory is fully lean and operating at its former capacity, it often will have 40% fewer employees. Unfortunately, this part of the story is all that normally makes it into print."
The Oaklea Press was founded in 1995 and specializes in books that help executives increase the productivity of the businesses they run. For more information visit http://www.leantransformation.com
# # #