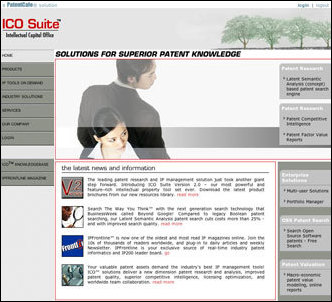 Many of the world's top 50 patent filers already use our advanced IP management solutions for better competitive patent intelligence, and higher quality, more defensible patents. But we're now looking to our new Strategic Advisory Board to help us see beyond tomorrow – and create the standard for patent-based business processes of the future.
Sacramento, CA (PRWEB) January 25, 2006 –-
Intellectual property management software company, PatentCafe http://www.PatentCafe.com announces the appointment of an executive panel of five patent and intellectual property experts to its Strategic Advisory Board.
PatentCafe's Strategic Advisory Board (SAB) provides the company's management with the critical perspective needed to maintain its position as a global IP management solutions leader, and will advise the company on expanding it's core product technology into new markets needing patent-based business information.
The new SAB members include: Stephen Fox, Dr. Nir Kossovsky, Toussaint Myricks, Irving Rappaport, and John Williamson (short biographies at bottom of this release).
The SAB members are all recognized intellectual property experts and industry thought leaders, and bring more than a century of patent knowledge and IP expertise developed while serving in executive positions at Hewlett Packard Co., Apple Computer, Vulcan, Inc., PPG Industries, Westinghouse Electric Corporation, National Semiconductor, and other leading innovators.
The SAB members have experienced first-hand how the intellectual property community is struggling to create improved patent quality and asset value. The IP environment is one challenged by unprecedented growth, an explosion in new infringement suits (more than 10 suits filed every day), and increased pressure to meet new Securities and Exchange Commission regulations.
PatentCafe CEO Andy Gibbs says: "the competitive demand for monopolistic market dominance by patent owners accelerates the run-away costs for companies to build and litigate a patent war chest. The problems we're seeing will not be solved solely by the proposed Patent Office policy changes."
In 2005, new US Patent & Trademark Office patent filings skyrocketed to a record setting 409,532, but only 165,000 new patents were granted. The USPTO is under pressure to grant more patents faster to keep up with demand, yet infringement suit defendants complain they are being sued over poor quality patents that should never have been issued. Initiatives to improve patent quality are on the top of the USPTO's 'to-do' list.
Gibbs adds: "Many of the world's top 50 patent filers already use our advanced IP management solutions for better competitive patent intelligence, and higher quality, more defensible patents. But we're now looking to our new Strategic Advisory Board to help us see beyond tomorrow – and create the standard for patent-based business processes of the future."
PatentCafe's new SAB is a critically important component to ensuring that its future IP management software applications will help standardize patent quality and valuation metrics, support reliable investment due diligence, and promote reliable financial reporting of patents as an important new asset class – and maybe help solve some USPTO problems along the way.
About PatentCafe®
The PatentCafe brand is recognized worldwide as one of the largest and most innovative intellectual property resource on the web.
PatentCafe is a publisher of a growing line of proprietary software applications that help professionals search, develop, manage, exploit, and analyze patents. Its products are used for patent portfolio management, industry technology analysis, competitive patent intelligence, and patent informatics.
Its growing customer list is a who's who of the world's largest patent owners, emerging high technology companies and intellectual property law firms.
The company is one of the oldest intellectual property companies on the Internet, but remains one of the "youngest" as a pioneer of an expanding line patent software applications and patent based business information systems.
Strategic Advisory Board biographies:
Stephen Fox, Formerly Vice President and Deputy General Counsel for intellectual property at Hewlett-Packard Company when he retired from HP in October, 2005. He managed the intellectual property section of HP's legal department, with overall responsibility for about 100 professionals in Europe, Asia and the United States. He is past president and current member of the Association of Corporate Patent Counsel, a past Board member of Intellectual Property Owners Inc., and a current Board member of the National Inventors Hall of Fame.
Dr. Nir Kossovsky is President and CEO of Technology Option Capital, LLC, where he provides financial and risk reduction strategies to discover, realize and protect intangible asset value. He is founder and CEO of Johnson & Higgins, an IP amalgamation company created with a client's patents, outsourced technical expertise, and an acquired brand. He was founder and CEO of Patent & License Exchange, Inc. (today, plx systems), an international intellectual property financial systems firm that helped transform intellectual property rights into financial instruments.
Toussaint L. Myricks is Managing Director of Innovation Asset Management, LLC. He is an expert in technology analysis, intellectual property strategy and valuation. He is the former Chief Patent Counsel for Vulcan Inc., the company formed by Microsoft co-founder Paul G. Allen, where he developed, managed and established the strategic direction of its worldwide intellectual property portfolio of patents. He is licensed to practice in the District of Columbia and before the United States Supreme Court, and is registered to practice before the USPTO and Canadian Intellectual Property Office.
Irv Rappaport is a co-founder, Managing Director and Senior IP Counsel of IP Checkups LLC. Previously Vice President Intellectual Property & Co-Founder, Aurigin Systems, a software platform that organizes and analyzes patent portfolios. Further, he was Vice President & Assoc. General Counsel, National Semiconductor Corp.; Independent Consultant for Intel, Associate General Counsel for Intellectual Property and Licensing, Apple Computer; Associate General Counsel & Assistant Secretary, Bally Manufacturing Corporation; Chief Patent Counsel, Data General Corporation. He was appointed by three U.S. Secretaries of Commerce and two U.S. Trade Representatives to the Industry Functional Advisory Committee on Intellectual Property for Trade Policy Matters.
John Williamson is currently a partner in the law firm Kirkpatrick & Lockhart Nicholson Graham LLP. He was previously Assistant General Counsel IP for PPG Industries, Inc. and served as Chief Patent Counsel from 1996 – 2000. He is past President of Intellectual Property Owners (IPO). Previously, Mr. Williamson was Assistant General Counsel and Group Manager for Westinghouse Electric Corporation where he was responsible for intellectual property law group of the company including major businesses in energy systems, defense electronics, power generation, refrigeration, and broadcasting. He was also General Patent Counsel, Allegheny International, Inc.; and Product Engineer for an Atomic Energy Commission facility project operated by Bendix Corporation.
# # #