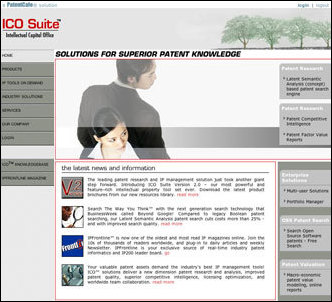 ICO Suite V.2. allows users to 'search the way they think' by using full text search queries of hundreds of words, not just a few keywords.
Sacramento, CA (PRWEB) January 25, 2006
Today, PatentCafe http://www.PatentCafe.com released the newest generation of its patent research and intellectual property management solution, ICO Suite V.2.
The new release coincides with the most significant restructuring of PatentCafe's web properties since its founding in 1996.
PatentCafe's Intellectual Capital Office (ICO™) is the suite of customer-proven software products for patent research and intellectual property management that enable innovation-focused organizations to create, manage and exploit their patents and technology assets.
In 2001, the company pioneered the integrated international patent database, semantic search engine and IP management software application. The new ICO Suite V.2 delivers more patent research, analysis and IP management capability than ever before – now to patent and non-patent professionals.
According to the Harvard Business Review (Rivette & Klein), U.S. companies waste roughly $1 trillion annually in unrecognized patent assets.
PatentCafe CEO Andy Gibbs says "If you can't find the best patents in your portfolio - in minutes verses months, you're missing your share of the $1 trillion. But that's only half of the equation. If you can't identify infringers or appropriate technology users, you'll never maximize patent licensing revenue."
Patents are complex legal and technical documents that have historically required skilled patent search experts using keyword searching to find the best patents.
"ICO Suite V.2. allows users to 'search the way they think' by using full text search queries of hundreds of words, not just a few keywords.", says Gibbs.
"Searching through our 150 million pages of patents takes only seconds, and the results are relevancy-ranked with the most important patents listed first. Our users find better patent prior art faster, and have realized a 25% drop in costs for a patent search compared to using legacy Boolean patent search engines."
That means that companies employing expert patent searchers at $70,000 per year could save more than $17,000 per seat – while significantly improving the patent search results quality.
PatentCafe licensees include Fortune 500 companies IBM, listed as the US Patent Office's #1 patent filer, Johnson & Johnson, BP, Rockwell, and a list of other industry leaders across the medical device, materials, semiconductor, oil and gas, defense, software, telecommunications and computer industries, plus top patent law firms and technology investors.
In a recent study, the company found that nearly 95% of the venture-backed companies own small patent portfolios intended to protect lucrative markets or generate licensing revenue.
Technology investors rely on patent attorneys to provide patent due diligence, but with PatentCafe's Semantic patent search engine, more venture capitalists and investment bankers are conducting their own preliminary technology due diligence and patent competitive analysis, saving time and money. More importantly, they gain a critical understand the competitive patent landscape for smarter investment risk analysis.
ICO Suite V.2 is a flexible, integrated software application that allows organizations to add on special function modules including ICO Patent Portfolio Manager, ICO Competitive Patent Alerts, patent team Blog collaboration, patent landscape charts, and statistical qualitative analysis patent reports. The enterprise-level ICO Suite is easily configured for organizations needing worldwide deployment with an unlimited number of user seats.
About PatentCafe®
The PatentCafe brand is recognized worldwide as one of the largest and most innovative intellectual property resource on the web.
PatentCafe is a publisher of a growing line of proprietary software applications that help professionals search, develop, manage, exploit, and analyze patents. Its products are used for patent portfolio management, industry technology analysis, competitive patent intelligence, and patent informatics.
Its growing customer list is a who's who of the world's largest patent owners, emerging high technology companies and intellectual property law firms.
The company is one of the oldest intellectual property companies on the Internet, but remains one of the "youngest" as a pioneer of an expanding line patent software applications and patent based business information systems.
###