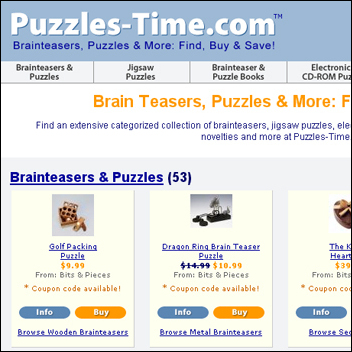 Austin, TX (PRWEB) January 25, 2006
Puzzles-Time.com is the definitive source to find and purchase puzzles online. The site launched on January 25 with a wide variety of jigsaw puzzles, brain teasers, sudoku puzzles, crossword puzzles, math puzzles, logic puzzles, word puzzles, plexers, magic sets, and puzzle games. Puzzles-Time.com was created by puzzle lovers who identified the need for a centralized location to find and buy puzzles online.
Puzzles-Time.com features puzzles of every shape and size from companies such as Bits N Pieces and Amazon.com. The site's catalog of puzzles currently features over 1,000 items and expands regularly. Visitors can find and purchase both puzzles for adults and puzzles for kids. According to veteran puzzle enthusiast and site user Sam Roberts, "Puzzles-Time.com has some of the most complicated and frustrating puzzles I've seen. It's a fantastic resource for getting to the hard-to-find puzzles I love to hate!"
In addition to traditional puzzles such as jigsaws and brainteasers, Puzzles-Time.com features hard-to-find puzzle items such as puzzle books, wooden and iron brainteasers, and electronic handheld puzzles. Puzzles featured on the site have numerous advantages for children and adults, such as increasing and conditioning logic and reasoning skills. Puzzles make an excellent gift for anyone, young or old!
Not only does Puzzles-Time.com offer a large and unique selection, but the site can also save shoppers a substantial amount by providing them with all the latest puzzle coupon codes. The current promotions include a free puzzle gift with any purchase from Bits N' Pieces.
Visit Puzzles-Time.com today to discover hundreds of intriguing puzzles that you never knew existed at the best possible price!
About Puzzles-Time.com:
Puzzles-Time.com is a website used to find and buy puzzles, brainteasers, puzzle books, games, and more. The site was built by puzzle-lovers who have organized the information about each puzzle item in a clear and informative manner. The site provides puzzle coupon codes for visitors so that they can save on puzzles and/or get free gifts with purchases."
###