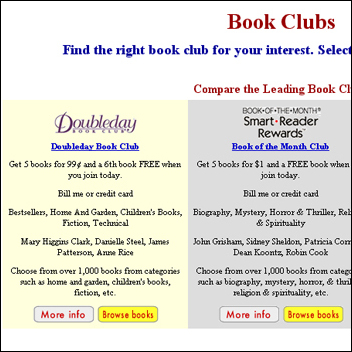 bill me later book clubs
Austin, TX (PRWEB) January 26, 2006
Book-Clubs.com features over 50 book clubs for visitors to browse, research, and join. Popular choices include Doubleday Book Club (5 books for 99¢ plus a free book), Book of the Month Club (5 books for $1 plus a free book), History Book Club (4 history books for $4), and Quality Paperback Book Club (6 books for $1 each). Visitors can browse through these and other book clubs to find a club with appropriate books for their literary tastes.
Book-Clubs.com has many childrens book clubs that will help you save big on books for your kids. The Childrens Book of the Month Club allows you to pick 8 books for $2 when you join. Scholastic Book Clubs feature favorite kids characters such as Mickey Mouse, The Cat and the Hat, Thomas the Tank, and more. Each of the children's book clubs deliver your children books on a monthly basis and fosters their love of reading.
For adults, Book-Clubs.com features numerous options including audio book clubs. Audio book enthusiast Craig Johnson says that "Joining an audio book club rentals service has saved me hundreds in the purchase costs for audio books over the past year!" These services allow members to rent CDs by mail or download audio books to their MP3 players. Book-Clubs.com has the latest offers from these clubs, including 3 free audio books from Audible Digital Audio Book Club, and 2 week free trials from Jiggerbug Audio Book Rental Service] and Simply Audiobooks. Other adult book clubs include a romance book club from Harlequin, mystery book clubs, and Crossings Christian book club and Quality Paperback Book Club from BooksOnline.
All online book clubs are a great way to save money popular book titles. Many "bill me later book clubs" are available. These clubs allows you to join without giving a credit card number. Book-Clubs.com helps you choose book clubs wisely and maximize your savings.
About Book-Clubs.com:
Book-Clubs.com features book clubs from BooksOnline, Harlequin, Scholastic, Audible, and other major book clubs. The site provides an excellent resource for visitors to find, research, and join book clubs online.
# # #