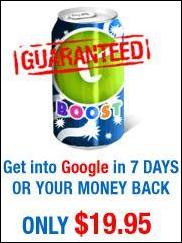 Perth (PRWEB) January 26, 2006
If ineedhits (http://www.ineedhits.com) can't get a customer's site listed after employing the advanced submission service and site analysis, ineedhits will refund the full purchase price to all eligible customers. This new money back guarantee on the advanced search engine submission services G-Boost and Y-Boost represents tremendous customer value. The guarantee ensures total transparency and integrity for these fast search engine inclusion services for Google and Yahoo!.
In response to the enthusiastic customer reaction, ineedhits is also offering a convenient solution for resellers of web services looking to enhance their own service range with the popular G-Boost and Y-Boost submission services. The new money back guarantee will also be available to resellers.
What are G-Boost and Y-Boost?
G-Boost and Y-Boost are affordable, advanced search engine submission services that boost a customer's chances of fast, 7 day Google or Yahoo! inclusion, while also helping to increase a website's back links and thus its ranking over time. These submission services are priced very competitively, fulfil the pressing need of many website owners for fast search engine inclusion and are an ideal addition to any search engine marketing activity.
Success Supported by Money Back Guarantee
The consistency and reliability with which G-Boost and Y-Boost achieve search engine inclusion within the stated 7 day timeframe has prompted ineedhits to offer a money back guarantee on these two advanced submission services.
According to Nancy Hackett, Marketing Manager at ineedhits, "With search engine marketing, it is very important that customer expectations are met and uncertainties regarding the effectiveness of search marketing services are removed. The money back guarantee shows that our customers can have full confidence in the quality and success of the 7 day inclusion offered by G-Boost and Y-Boost. With the money back guarantee, a purchase of these services becomes a sure bet!"
The money back guarantee extends to any new G-Boost or Y-Boost orders placed from 4 January 2006 onwards. Detailed information on G-Boost and Y-Boost is available at http://www.ineedhits.com/submission/GBoost.aspx and http://www.ineedhits.com/submission/y-boost.aspx. For full terms and conditions, please refer to http://www.ineedhits.com/search-engine-help/terms.aspx.
G-Boost and Y-Boost with Money Back Guarantee Now Available to Resellers
The new money back guarantee make G-Boost and Y-Boost an even more exciting addition to the service range of any company providing e-solutions to small and medium size businesses. By including these services in their product range, resellers can:
Address their customers' need for search engine optimization and search engine marketing services with greater confidence;
Provide value and reassurance in regards to website listings on the major search engines;
Extend their product or service range easily and with minimal integration effort;
Grow revenue with attractive margins.
To explore how the reseller opportunities for these popular and money back guaranteed search engine submission services can benefit your company, please contact ineedhits Sales & Service Manager Warren Duff at [email protected]
About ineedhits.com
ineedhits (http://www.ineedhits.com), a pioneer in search engine marketing, services over 500,000 customers and subscribers. Founded in 1996, ineedhits has provided search engine optimization and submission services to small and medium-sized businesses for over eight years. With over 90% of ineedhits' customers located in the United States, the company itself is based in Perth, Western Australia and employs 30 staff. Partners include Yahoo!, ExactSeek, Kanoodle and Net Applications. ineedhits has received numerous awards including the Deloitte Touche Fast 50 (2003 & 2004) and BRW Fast 100 (2002 & 2003).
Further Information:
Nancy Hackett
Marketing Manager
Phone: +61 8 9333 8233
Email: [email protected]
###