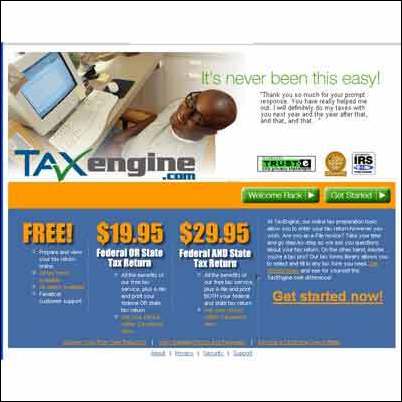 We are excited about the new website
Kaysville, UT (PRWEB) January 26, 2006
TaxEngine.com has launched a new website for the 2005 tax season. TaxEngine's in-house web design team has developed the new website to provide easy access for customers to prepare and file their tax returns online. The website is now available at TaxEngine.com.
"We are excited about the new website," said Cindy Jensen, Project Manager for TaxEngine.com, "This is our 5th tax season offering taxpayers an easy and affordable solution to online tax return preparation. The improvements we have made at TaxEngine this year allow taxpayers to complete their tax returns even faster than before. It couldn't be easier!"
The new TaxEngine website provides a robust suite of tax preparation tools that lets taxpayers from every state prepare and file their federal and state income taxes. The tax preparation system on TaxEngine.com begins with a comprehensive interview process to help the taxpayer know what information to include on their tax return. TaxEngine explains each step along the way and walks customers through each step of the tax filing process.
TaxEngine's system checks each customer's information and catches many common omissions and mathematical errors to ensure more accurate tax returns. All of the common tax forms and schedules are available to customers. TaxEngine's knowledgeable customer service staff is available to answer any tax-related questions that arise as customers prepare and file their taxes.
After completing the tax preparation process, customers can view or print their tax forms. They can choose to either send in the paper forms or e-file their taxes through the TaxEngine online tax filing service. The cost to file a single federal or state tax return is $19.95. The cost for filing both federal and state taxes is $29.95. Anyone can register for an account and prepare and print tax forms at no cost.
TaxEngine has also partnered with financial institutions to offer tax refund anticipation loans. These loans give taxpayers the opportunity to receive their tax refund in as little as 48 hours of filing their taxes for a small fee.
The 2005 tax filing season marks TaxEngine's fifth year offering consumers a quick, easy and comprehensive solution to online tax return preparation. TaxEngine.com was developed as a natural extension of TaxWorks, which is tax return preparation software, designed for professional tax preparers. TaxEngine provides professional-quality online tax preparation tools at an affordable price.
For more information visit:
# # #