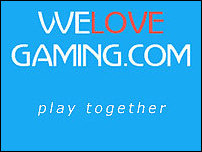 (PRWEB) January 27, 2006
As of today SPILL GROUP starts with a new multiplayer gaming platform http://www.welovegaming.com. SPILL GROUP, http://www.spillgroup.com, has over 1 million unique visitors per day and is focused to become a worldwide leading company on online game portals and game-traffic. SPILL GROUP has online game portals in Holland, Belgium, Germany, France, UK, Poland, Italy, Spain, China, Malaysia and India.
Recently SPILL GROUP also launched a specific platform for download-games http://www.allgamez.com in cooperation with Boonty and a skillgaming platform http://www.skillgames.net with TMGC.
In the next two weeks SPILL GROUP expects to launch two more platforms. Last week the company signed a deal with GameAccount to set up the site http://www.skillgame.com.
ZiGiZ.com introduces House Of Cards
Today Zigiz.com, http://www.zigiz.com, introduced the new game "House Of Cards". Zigiz.com is both a free-play and paid site where players (of the paid version) can win money for playing such games as House of Cards, BubbleUp, JewelMine and more. The site is available in English, Dutch, Polish, Spanish and more.
New Game; House Of Cards
Building a house of cards with the highest possible value; that is your target with this new game. In this new game, players simply attempt to build a pyramid by matching up cards. On the surface, it seems like the old-fashion building game many enjoyed when they were young, but now ZIGIZ.com added a twist. When the house of cards is built, from the ground floor up, the values of the cards matter as higher levels can only rest upon cards that are worth more; otherwise the house tumbles and the cards are lost. The point is to make it to the top peak with the highest point value possible. By far an interesting skill game that is available in the languages Dutch, English, Polish, Spanish, French, German and Italian.
About SPILL GROUP & ZIGIZ.com
SPILL GROUP HOLDING has four subsidiaries SPILL GROUP EUROPE, SPILL GROUP ASIA and KOTTABUS Ltd. The European division is located in Hilversum (The Netherlands) and the Asian division is located in Shanghai (China). KOTTABUS Ltd is an ad-agency that is selling ad-space of SPILL GROUP's game portals and products. ZIGIZ.com is the fourth subsidiary of SPILL GROUP. Future planning is to start SPILL GROUP INVESTMENTS to participate in start-up game publishers in Asia.
More information; http://www.gameminded.com.
###