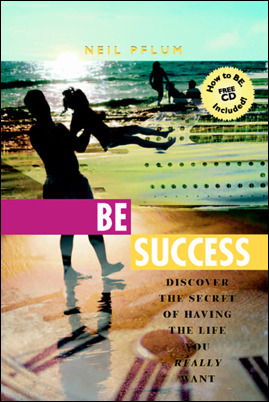 My book is a step-by-step guide to BEING more successful in every area of your life. In fact, it's not just a book. It has a multimedia CD in the back that will teach you a breakthrough technique for letting go of negative emotions and limiting beliefs.
Dallas, TX (PRWEB) January 28, 2006
Neil O. Pflum, successful, speaker, singer and now author, claims that his book will enter the #1 spot on the same day that it is released. Because of the timing and the partnerships that Pflum has created, he says there is a buzz and a momentum happening around the book that will increase exponentially once the release through the book's website, http://www.besuccessbuythebook.com is official on the 31st.
"I have offered a limited number of pre-orders for the book, and they have been snatched up. When I mention the book to people that I meet, they often ask me how they can buy a copy. The amount of interest in this book is amazing." Pflum says, "It's true that I created this book, and now it is also true that the book is developing a life of its own."
Pflum says that he believes part of the momentum is due to the nature of the work. "BE Success is a book that people are ready for. So many people are looking for success in the areas of love, health and money, but they're not sure how to achieve it. They think that DOING more is the answer, but in fact, it's their BEING that is more powerful."
Pflum explains that the secret of having the life they really want is available to people mostly through the Power of BEING, which is what ultra-successful people have known for years. "Donald Trump makes about two million dollars per year in salary alone. That's 50 times more than someone who makes $40,000 per year. Do you think Donald Trump is working 50 times harder? Probably not."
The author agrees with Thoreau, that most people lead lives of quiet desperation. "It doesn't have to be that way. To live the life of our dreams is not only possible, it is our birthright! To think that we are somehow required to live limited lives where there is some kind of cap on the amount of love, health or money that we can enjoy is a mistake." Pflum expands, "It really doesn't have to be that way."
He explains that his book is a radical departure from traditional success books, and that, in the book, he reveals the secrets that ultra-successful people have been using for years to have uncommon success. "My book is a step-by-step guide to BEING more successful in every area of your life. In fact, it's not just a book. It has a multimedia CD in the back that will teach you a breakthrough technique for letting go of negative emotions and limiting beliefs." Pflum explains, "It's really a book and CD success kit."
In order to increase interest and provide an incentive for people to buy the book on the release date, Pflum has decided to offer bonus gifts that are worth more than ten times the purchase price of the book. "I have teamed up with partners who are interested in getting the word out about their companies. They want people to have a sample of what they can do, so they are giving me some very valuable bonus gifts to give away to people who purchase the book on the release date. It's a total WIN-WIN, and it will likely drive sales through the roof on January 31st."
For more information about Neil O. Pflum's book, BE Success – Discover the Secret of Having the Life You Really Want, visit the website for the book, at: http://www.besuccessbuythebook.com
# # #