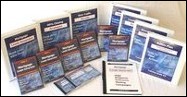 Mortgage Leads Generator Training Course.
Miami, FL (PRWEB) January 30, 2006
Hartley Pinn, an expert on Mortgage lead generation and author of a multi-media career training series on succeeding in the mortgage lending business, has just created and released his "Mortgage Leads Generator Training Course." This series of training manuals and videos teaches prospective mortgage loan officers how to generate a five- to six-figure monthly income while cutting their work schedule down to only 10 hours a week.
His newly developed series provides a complete, A-to-Z, step-by-step multimedia course on how mortgage lenders can generate consistent and near unstoppable streams of qualified mortgage leads and prospects – even making it possible to make a mid life career change into this field of work. Mortgage lead generation is made easy.
Here are just a few of the mortgage lead generation techniques outlined in the Mortgage Leads Generator training course:
How to produce purchase and refinance mortgage leads in any economy
How to generate thousands of free, pre-qualified internet mortgage leads
How to get loans from realtors, CPA's and financial planners without having to make cold calls
How to combine systems and technology to increase production while cutting your work schedule down to only a few hours a week
Also, discover numerous mortgage marketing tips including a valuable service that lenders can pass on to borrowers with less than perfect credit that allows them to learn how to increase their credit score by 50 to 100 points in less than 30 days.
His course even shows people how they can make a complete mid life career change into the occupation of mortgage broker.
But is today's housing market still going strong, and is the occupation of mortgage broker one that people should get into right now? "Yes," says Pinn on both counts, adding that:
"Strength in the marketplace combined with easy start-up and minimal career training requirements combine to make independent mortgage brokering an attractive career change for many. If the first week of January 2006 is any indication, the housing market still shows promise of remaining strong in 2006. Statistics released by the Mortgage Bankers Association showed mortgage loan application volume up 9.9% from one week earlier. The Purchase Index increased by 9.3% from the previous week and the Refinance Index was up by 9.9% over one week earlier."
About Pinn:
As a top producing mortgage loan officer in Scottsdale, Arizona, and an expert on Mortgage lead generation, Hartley Pinn has been actively testing, researching, and evaluating lead generation strategies since 1995. He has written several articles on the subject of producing mortgage leads and, most recently, created the "Mortgage Leads Generator" training course.
For more information about mortgage marketing, training, how to make a mid life career change, qualifications and job duties, visit Pinn's website at http://www.mortgage-leads-generator.com/
###