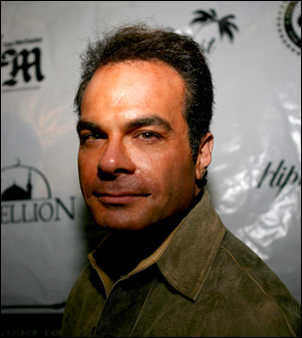 The Fabulous Baker Boy's), Supermodel Rachael Hunter, and Morris Day (
Hollywood, CA (PRWEB) January 28, 2006
A typical Thursday night in LA, this time the A-list "who's who" crowd can be found at Club Basque in Hollywood for the birthday bash celebration for Dorian Gregory of Soul Train. Right in the middle of all the activities and beautiful ladies, you can find Eric Schiffer! This time he was spotted rolling out of a stretch limo with members of Dokken, LA Guns, The Peppermint Creeps and "X Men 3" actress Ashlyn Dixon. What is it with Eric Schiffer? There doesn't seem to be an event that starts without him!
Is he Hollywood's new Paris Hilton?
Mr. Schiffer is stunningly handsome and one of the nicest and most charming personalities in Hollywood. This is a weekend in the life of Eric Schiffer: Thursday, Dorien Gregory's celebrity packed birthday bash with Snoop Dog and Ashton Kutcher and Demi Moore. Friday, jet setting off to Davos, Switzerland to attend the World Economic Forum with Bill Clinton, Angelina Jolie and Brad Pitt. Sunday, returning to Los Angeles to attend the I Have a Dream Foundation Brunch honoring Samuel L. Jackson. Oh yes, and later that evening attending The SAG Awards and various A-list parties!
Eric Schiffer brings class back to the term socialite. His involvement in world affairs, philanthropic deeds, global humanitarian efforts and an over all great personality make him the real deal. Hollywood will be watching this guy for a very long time to come.
Eric Schiffer, socialite, business guru and bestselling author will, as previously reported by E! Online, be appearing in two upcoming Hollywood studio films to be produced in 2006. Schiffer most recent bestselling book, "Emotionally Charged Learning" will be followed up later this year by his newest release, "Rock Star Entrepreneur".
Schiffer recently starred in the recently released Monarch Entertainment film "Boys Klub" starring Beau Bridges ("The Fabulous Baker Boy's), Supermodel Rachael Hunter, and Morris Day ("Purple Rain").
Eric Schiffer previously starred in a cameo performance role alongside Jeff Conway ("Taxi" and "Grease") in Showtime's "Gentlemen's Club" and opposite Robert England ("Nightmare on Elm") where Schiffer plays himself in a cameo action hero performance role. Eric Schiffer also filmed a cameo appearance alongside Faye Dunaway ("Network" and "Mommy Dearest") and Robert Wagner ("Austin Powers") in a yet unreleased project called "Kiss of Death." In the starring cameo role, Schiffer plays the husband of Supermodel Rachael Hunter.
Schiffer has long since been an icon for business and corporate leaders. "Eric Schiffer's fan base continues to build around the world," says a senior representative from the publisher of Emotionally Charged Learning (http://www.EmotionallyCharged.com), Franklin Integrity Press. Schiffer, already famous from his bestselling book "Emotionally Charged Learning", seems to continue to draw interest from Hollywood.
# # #