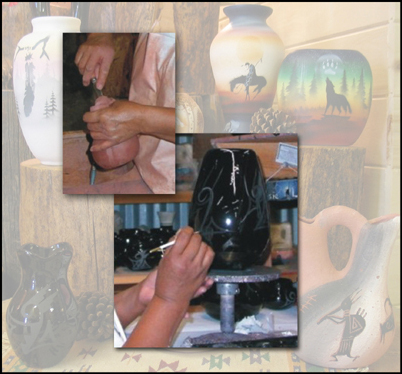 (PRWEB) January 31, 2006
Twenty-five years ago, while Joe Lyman was in Europe, his father recognized that a Native American pottery factory run by members of the Ute tribe among whom he lived could be transformed into a profitable business with proper management. Until then, the shop had been fraught with difficulties, turning out Native American art, but losing money every year to the point of insolvency and desperation.
Battered down by these conditions to a level of hopelessness, existing management surprisingly turned a deaf ear to his words of hope and promise. They wouldn't believe that the kind of success he spoke about was possible, nor would they sell him the company or have him attempt to manage and revive it. Although he offered to buy the kiln, they would not let him use their name or sell him their tools. So he gathered his life savings of $7000, bought his own kiln and, in 1981, Cedar Mesa Pottery was born.
Twenty-five years later, Cedar Mesa is like a flower blooming in the arid desert of Utah. Specializing in gorgeous, one-of-a-kind, carefully hand crafted Native American pottery which embodies the rich Native American cultural heritage and combines artists' natural talents and creative genius with such traditional Native American pottery designs as the Wedding Vase, the Wind Bell, the Bear Fetish and Kokopelli, the humpbacked flute player, Cedar Mesa has unique appeal.
In the 80's, a nationwide fascination with southwestern art saw the birth and growth of many southwestern art and pottery companies, but cheap imported imitations flooded the market and eventually put most of them out of business. Never straying from his father's ideals or philosophy of management, Joe Lyman helped Cedar Mesa stay afloat through those tough times.
The company supported its artists with training and emphasized the expression of each of their unique individual qualities. Supporting them required running the company with a very conservative fiscal approach to weather any bad storms.
"We never paid ourselves a lot," says Lyman. "Our purpose has always been to help Native American artists to get ahead, by providing them with meaningful employment. So we positioned ourselves to survive when times weren't good."
Lyman foresaw the appeal to interior designers, gift shop owners and individuals savvy enough to want only uniquely crafted and designed, authentic Native American art.
"Each of the Cedar Mesa pieces comes with a certificate of authenticity, and is signed by the artist and states their tribal affiliation," says Lyman.
Cedar Mesa now produces the well known Adamson and Hozoni pottery lines as well, providing a huge selection of competitively priced items. As interest in Native American art has begun to grow again, employment opportunities for the next generation of Navajo and Ute artists looks promising.
"People come to Cedar Mesa because they like our price, our quality, our service and our timely delivery," says Lyman. "In this struggling economy, this really helps us fulfill our promise of providing as many jobs as possible to Native American artists."
Cedar Mesa Pottery's new website displays an ever-changing view of their intensely beautiful Native American art and showcased artists.
For More Information Contact:
Joe Lyman
Cedar Mesa Pottery
Phone: 435-678-2241
Fax: 435-678-2906
333 South Main
Blanding, UT., 64511
# # #