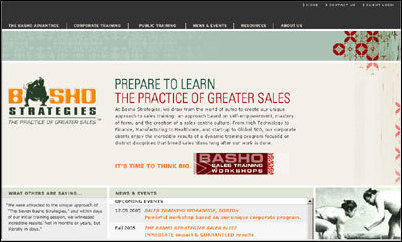 Effective networking is a necessity in today's competitive marketplace and a skill that great salespeople incorporate daily
Burlington, MA (PRWEB) January 31, 2006
Basho Strategies, Inc., the premier international sales training firm that empowers organizations and individuals to achieve immediate sales results, today announced the kickoff of its Networking Breakfast Series with the first event to take place in Waltham on February 14, 2006 at 7:30 AM. At this unique networking session, attendees will learn how to create a compelling elevator pitch and then have the opportunity to practice it as they network with executives from Boston's leading Fortune 500 companies.
"Effective networking is a necessity in today's competitive marketplace and a skill that great salespeople incorporate daily," said M. Jeffrey Hoffman, President and CEO of Basho Strategies. "Since networking is such an important part of the Basho Strategies sales training philosophy, we are excited to bring this unique event to the Greater Boston area. It will not only provide attendees with an exclusive networking opportunity, but will teach them how to command the attention of top area executives."
The first Basho Strategies Networking Breakfast will take place at the Westin Waltham on February 14 from 7:30 AM until 9:30 AM in Waltham, MA and is by invitation only. For further details about this event, please contact Basho Strategies at (781) 685-4683 or visit the website at http://www.bashostrategies.com.
About Basho Strategies, Inc.
At Basho Strategies, we draw from the powerful world of sumo in our approach to sales training; an approach based on self-empowerment, mastery of form, and the creation of a sales-centric culture. Through our exclusive pipeline management program, "The Seven Basho Strategies," we concentrate on a series of powerful sales techniques that focus on self-reliance and tactical execution, immediately improving efficiencies within existing sales processes. Once these techniques are employed, our clients enjoy the lasting impact of a unique training program that dramatically empowers their sales teams to achieve extraordinary sales results.
# # #