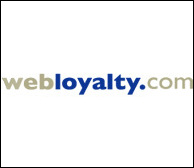 At FTD.COM, we are always looking at ways to enhance the experience for our millions of users and we believe that Webloyalty offers them a variety of benefits that they will find very valuable.
NORWALK, Conn. (PRWEB) January 31, 2006 —
Webloyalty, a leading provider of online marketing and subscription services, today announced that it has signed its 100th e-commerce client, FTD.COM, Inc. ("FTD.COM"), exclusively to a multi-year contract. FTD.COM utilizes the delivery network of approximately 20,000 retail florists of its parent company Florists' Transworld Delivery, Inc. (FTD).
With the addition of FTD.COM to its client roster, 40 of Webloyalty's 100 partners are now listed on the Internet Retailer Top 400 Guide, an exclusive ranking of America's 400 largest online retailers based on Internet retail sales volume in 2004. Online retailers, travel and subscription-based sites turn to Webloyalty to increase their revenues, generate repeat transactions, and provide savings and other benefits to millions of their customers. Benefits include discounts of up to 50 percent at top attractions as well as dining and movie ticket discounts.
"After evaluating the leading marketing services companies, we have chosen Webloyalty due to its clear and consistent best-of-breed customer service and marketing capabilities," said Michael J. Soenen, President and CEO of FTD Group, Inc. "At FTD.COM, we are always looking at ways to enhance the experience for our millions of users and we believe that Webloyalty offers them a variety of benefits that they will find very valuable."
"FTD.COM delivers one of the most well known brands in the floral industry, with the ability to scale to meet customer demands, enabling Webloyalty to offer savings and rewards to millions of potential customers," said Richard Fernandes, CEO and founding partner of Webloyalty. "As the e-commerce industry continues to mature, we're confident companies will continue to turn to Webloyalty to provide high-value, trustworthy and revenue-generating online marketing services and benefits to its customers."
About Webloyalty
Webloyalty is one of the leading online subscription and marketing services companies providing customized programs to e-commerce, travel and other fee-based businesses. Through its range of innovative Internet products, like Reservation Rewards, Webloyalty enables its clients to generate new revenues and increase repeat purchase rates while offering their clients' customers a range of subscription services in a credible and trustworthy environment. Founded in 1999, in response to the emerging needs of e-commerce companies, Webloyalty has a client roster of 100 companies. Since its inception, the company has been dedicated to marketing responsibly on behalf of its clients to their customers by offering a new model of customer-friendly subscription services. Today, over 1.5 million online subscribers enjoy savings and protection from Webloyalty's services. Most recently, Webloyalty was named the fastest growing technology company in Connecticut, finishing first in Deloitte's prestigious Technology Fast 50 Program for Connecticut, and finished No. 8 on the 2005 Deloitte Technology Fast 500, a ranking of the 500 fastest growing technology companies in North America.
About FTD Group, Inc.
FTD Group, Inc. is the parent company of FTD, a leading provider of floral services and products to its retail florist network and FTD.COM. FTD.COM is an Internet marketer of flowers and specialty gifts selling directly to consumers and corporations through http://www.FTD.COM and -800-SEND-FTD. FTD.COM utilizes FTD's network of approximately 20,000 FTD Florists in the United States and Canada who adhere to FTD's quality guarantee and service standards, giving FTD one of the highest delivery coverage areas in the industry. For international orders, FTD.COM utilizes florists worldwide in 150 countries that are part of the FTD network. Visit http://www.FTD.COM.
Contact:
Danielle Richichi
Edelman
212-819-4804
Emily Peterson
FTD
630-724-6692
# # #