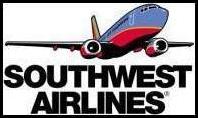 Dallas, TX (PRWEB) January 31, 2006
Now is the time to make your family vacation plans with Southwest Airlines (NYSE: LUV) as it offers amazingly low fares. Southwest Airlines is offering $49 one-way low air fares with a 21-day advance purchase, available for a limited time on southwest.com/vamonos, for travel between Chicago Midway, Phoenix, and select Midwest and Southern California cities. To book these cheap airfares available at http://www.southwest.com/vamonos or 1-800-VAMONOS (1-800-826-6667), go to: http://www.southwest.com/jp/vamonos.shtml?src=PR_esp_mdwphxSale_13106
"If you are planning your next trip, affordable fares at southwest.com/vamonos make it much easier for you," said Kevin Krone, Southwest Airline's Vice President of Marketing, Sales, and Distribution. "Now is the time to book your next vacation with Southwest's amazingly low fares to various cities across the U.S. With our low fares, you'll still have money to spend when you get there."
Customers can take advantage of the $49 one-way fares between the following cities:
Between Chicago Midway and Nashville, Cleveland, Columbus, Detroit, Indianapolis, Kansas City, Omaha, Louisville, or St. Louis.
Between Phoenix and Burbank, Los Angeles, Ontario, San Diego, or Las Vegas.
Fare Rules
The fares are available for purchase today through Feb. 9, 2006, and are valid for travel from Feb. 21, 2006, through the end of Southwest Airlines' published schedule (currently June 9, 2006). Tickets must be purchased 21 days before departure. Fares are available one-way and are combinable with all other fares. When combining fares, all ticketing restrictions apply. Seats are limited. Fares may vary by destination and day of travel and will not be available on some flights that operate during very busy travel times and holiday periods. Fares do not include a federal segment tax of $3.30 per takeoff and landing. Fares do not include airport-assessed passenger facility charges (PFC) of up to $9 one-way and U.S. government-imposed September 11th Security Fees of up to $5 one-way. Fares are subject to change until ticketed. Tickets are nonrefundable but may be applied toward the purchase of future travel on Southwest Airlines. Fares are valid on Southwest-operated published, scheduled service only and are not available through the Group Desk. Any change in itinerary may result in an increase in fare. Fares are not necessarily common rated in the Los Angeles Basin. Orange County's John Wayne Airport is not included in this sale.
To take advantage of Southwest Airlines' super low fares, Customers who book their travel via the Internet can subscribe to Southwest Airlines'
Click 'n Save e-mail updates as well as Southwest Airlines' newest technological innovation -- DING!
DING! delivers Southwest Airlines' hottest deals directly to Customers' desktops allowing Customers to get a jump on the latest southwest.com sales! For more information, visit http://www.southwest.com/ding .
Media Contact:
Public Relations of Southwest Airlines
+1-214-792-4847
# # #