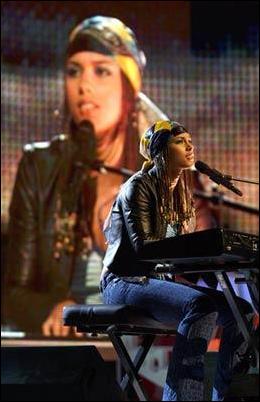 Woodland Hills CA (PRWEB) February 1, 2006
Introducing an animated, world where nationality, plays a minor role and friendship, honesty, ethics and loyality rule. Club Society Hills, targeting,(Kids/Teens, ages 9-14) gets high marks.
A+
Pictured, super-star multi Grammy Award winner, Alicia Keys. Songs in the key of life.
Blackmon Entertainment Media, Producers of Gospel Insider, Hollywood Gospel Insider Music Awards, Black University Radio Network, (BURN)Entertainment 101 and Sports Vybe, continues to dazzel, with their creative "family friendly" media programs. The new interactive web site, http://www.clubsocietyhills.biz and Society Hills "411" Newsletter, boast an educational, entertainment, destination, featuring, E-Books, Urban Fairytales, Health & Beauty tips, Awards Shows, Entertainment News, Games, Downloads, Prizes and a local Los Angeles chapter, hosted at the (New Academy of Canoga).
Also introducing the Club Society Hills Crew, a multi cultural animated cast, ranging in ages 4-14. Log onto http://www.clubsocietyhills.biz, and meet Jessica Kennedy Monroe, Paula Dominique Blue, Tiffany Savanna St James, Lola Diana Lopez, Praba Mercedes, Mika "Mae Mae" Duboi, Brandon Lopez, Isaiah Blue, Asia Taylor Lee and their Poodle Pups, Destiny and Paris.
Your invited. Club Society Hills will be hosting, a "Valentines" Family Skate Party. Sat Feb 11 2006, at Skateland, Northridge California.
Sign up today. "Free" Society Hills "411" Newsletter. Hurry offer limited.
###