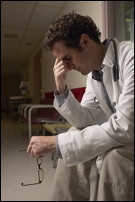 What's most surprising to me is not what's on the list of potential killers, but what has been conveniently left off -- the stupid things that are done to people, often under the mistaken guise of 'good medicine.'
Schaumburg, IL (PRWEB) February 7, 2006
Imagine if everyone realized that 50% of all the things that can kill them were within their own control -- and basically their own fault. Well, according to a recent article on the Forbes website, this is essentially true. The article, which lists "the worst things" a person can do to their body, may come as a shock to most people, but not to Dr. Joseph Mercola, founder of popular natural health website Mercola.com.
The Forbes.com article stresses that these factors are essentially voluntary lifestyle and behavior choices. According to this article's author, "…the majority of deaths stem from doing stupid things to ourselves."
Dr. Mercola agrees that many deaths can be prevented by making smarter, healthier choices. However, he states: "What's most surprising to me is not what's on the list of potential killers, but what has been conveniently left off -- the stupid things that are done to people, often under the mistaken guise of 'good medicine.'"
The Forbes article's author looked back to a 1993 study by Drs. McGinnis and Foege from the U.S. Department of Health and Human Services, which was published in the Journal of the American Medical Association.
This study examined major external (or nongenetic) factors that contributed to death in the U.S. The study authors concluded that 50% of all deaths in 1990 could be attributed to these factors, which included tobacco, diet and activity patterns, alcohol, microbial agents, toxic agents, firearms, sexual behavior, motor vehicles and illicit use of drugs.
Dr. Mercola, author of the bestselling Total Health Program, does agree that people should use common sense to minimize their health risks. He concurs that everyone should:
Engage in regular exercise and healthy eating to avoid disease, weight problems, and the need for potentially harmful medications.
Stop smoking, using recreational drugs and abusing prescribed drugs.
Quit having unprotected and high-risk sex, particularly when the partner's sexual history is unknown.
Avoid drinking alcoholic beverages (although one glass of red wine per day is beneficial for most adults).
Practice appropriate safety precautions (including avoidance of alcohol) around guns and motor vehicles to prevent senseless accidents.
However, Dr. Mercola feels that some of the responsibility for these millions of preventable deaths should be shouldered by the real parties responsible:
•Doctors, whose medical errors and unnecessary surgeries kill hundreds of thousands of trusting patients every year.
Doctors are 9,000 times more likely than gun owners to accidentally kill someone; they have, unfortunately, become the leading cause of death in the U.S. due to their part in our misguided modern health care system.
They yield their powerful influence to market unsafe drugs and vaccines, attempt to cover up their mistakes, spend billions to hype these dangerous drugs to unsuspecting patients, and promote harmful (and expensive) over-prescribing by providing inappropriate 'perks' as incentives to doctors and pharmacists.
Government agencies like the FDA and EPA, which operate with lax policies on medical safety and competence, prescription drug safety and environmental toxins (not to mention those unethical conflicts of interest with big business entities).
Dr. Mercola's vision is to facilitate transformation of the existing ineffective medical paradigm by encouraging smarter choices with regard to nutrition, exercise, stress and emotional factors and healthier alternatives to potentially hazardous medications.
He also cautions people to be aware that one of the best things they can do for their body is this: stop being fooled by all the publicity and hype into believing that there is a "one-size-fits-all" diet. Each person has a unique metabolism and biochemistry requiring certain proportions and types of proteins, fats and carbs in healthy foods.
Readers who are interested in doing the best things they can for their body starting right now are urged to take a crucial first step by completing a free brief test to discover their own unique Metabolic Type at http://www.mercola.com/forms/mt_test.htm.
# # #