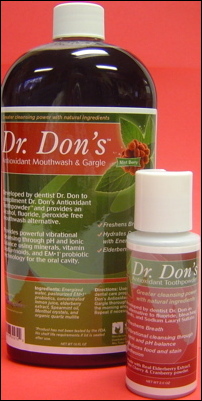 They are the first of several new products we plan to develop and bring to the market. Dr. Don has put several years of research into them, and I think he has created two wonderful products that I am proud to see the EM America logo on.
Alto, TX (PRWEB) February 1, 2006
Combining science with common sense, Dr. Don, a retired dentist from Northern California, developed his dental care products to deal with the problems we all have today such as bad breath and gum disease. Two new products, offered exclusively through EM America, are Dr. Don's Antioxidant Toothpowder and Dr. Don's Antioxidant Mouthwash & Gargle. The products offer what most dental products cannot claim: soft tissue cleansing through electromagnetic energy without the use of electricity. This is a massive step forward in dental care.
When he began practicing dentistry several years ago, the focus of dentistry was on the sugar bacteria. These bacteria that feed on the sugars in our mouths, were mainly aerobic, and caused cavities. Since the introduction of antibiotics in dental products, mutations in bacteria have become more common and the predominant bacteria in our mouths today are anaerobic and nor did they exist even 25 years ago. Yet, we are still trying to deal with these mutant anaerobic bacteria with the same antiquated methods that are no longer effective and continue to cause bacterial mutations and resistance.
Dr. Don's concept was to combine Effective Microorganisms™ Technology and EM•1® Probiotics and high antioxidant ingredients to create "Vibrational Cleansing". Vibrational Cleansing is the creation of ultrasonic high frequency vibrations to loosen contaminants off both the teeth and soft oral tissues. The cleansing power is equal to, and may be even greater than, current oral hygiene products because the energy is greater than x-ray and even some gamma ray vibrations. But unlike x-ray and gamma rays, the energy absorbed by cells is of low chemical energy. Low chemical energy is safe and produces radiance with harmony in the oral cavity.
Documented tests to prove that Vibracleanse has both cleansing power and low energy electricity were done by quantum computer digital electrical tests. Vibracleanse measured to have a resonance in the ultrasonic high frequency range with the toothpowder generating the highest resonance. The magnetic energy was measured by the amperage that reached the brain. The measurements showed nearly 100% of potential volts reached the brain. The proof that the magnetic energy had low chemical energy was measured by resistance phase angle. There was a balance of electrons to protons with a slight excess of protons in the toothpowder and slight excess of electrons in the mouthwash. The ionic balance gives Vibracleanse the low energy to produce osmosis and chemiosmosis which is necessary for homeostasis in the body.
Dr. Don's Antioxidant Toothpowder is laced with potent vitamins and minerals in an inert dehydrated form. When the powder mixes with water and/or oral saliva, the ingredients activate to generate both electricity and magnetic energy (Electromagnetic). A big bonus of the toothpowder is that the radiant energy cleanses soft tissues where most adult dental problems with bad breath, gum disease and sinus originate. The abrasive agent is a form of volcanic pink clay that is loaded with trace minerals which carry strong resonating vibrations. The absorbing agent is an EM-X® Ceramic powdered quartz with nanotechnology that gives the radiating material absorbing properties. Xylitol is used as a sweetener that is free of calories and has been researched for its benefits in dentistry since 1970. Other key ingredients are elderberry extract, sour cherry powder, and cranberry powder.
Complimenting the toothpowder, Dr. Don's Antioxidant Mouthwash & Gargle is rich in potent vitamin and polyphenol antioxidants (bioflavonoids) that help dissolve and absorb (chelate) contaminants to be rinsed out of the mouth. An important ingredient in the mouthwash comes from the EM•1® probiotic enzymes. Probiotic enzymes give the competitive advantage to beneficial bacteria over oral pathogens. The result is an environment where beneficial bacteria thrive.
"We hope to see these products available in retail outlets around the world," stated Dwayne King, President of EM America. "They are the first of several new products we plan to develop and bring to the market. Dr. Don has put several years of research into them, and I think he has created two wonderful products that I am proud to see the EM America logo on."
Both Dr. Don's Antioxidant Toothpowder and Mouthwash & Gargle are free of alcohol, which is used to kill bacteria, causing mutant strains of bacteria, and dries out the oral cavity. They are also free of controversial ingredients that other natural toothpastes contain such as fluoride, sodium lauryl sulfate, glycerine, or other bleaching agents.
EM America is the exclusive sales and marketing company of EM•1® microbial products in the continental United States.
Contact EM America for products, technical service, and availability of all products bearing the EM logo (recently recognized as a famous Japanese trademark) and consulting on the use of Effective Microorganisms™: (866) 369-3678. Or visit our newly designed website at:
EM•1®, EM-X, and the EM Logo are property of the EM Research Organization in Okinawa, Japan.
# # #