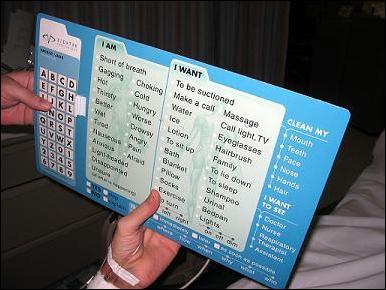 Los Angeles, CA (PRWEB) February 1, 2006
The Joint Commission for Accreditation of Healthcare Organization (JCAHO) has improved their patient communication standards of care by requiring hospitals to document each patient's ability and means to communicate. The Vidatak EZ Board offers an inexpensive and effective method of standardized caregiver-patient communication to help institutions meet JCAHO's 2006 National Patient Safety Goals.
The Vidatak EZ Board is a dry-erase board with pre-printed content depicting a common range of thoughts, feelings, and needs developed by patients who have been intubated and used in several hospitals including Mayo Clinic, Massachusetts General Hospital, Cleveland Clinic, UCLA Medical Center, UCSF Medical Center, and University of Pittsburg Medical Center. The patient communication board quickly establishes clear communication between nonverbal or intubated patients and their caregivers and family.
According to JCAHO's National Patient Safety Goals for 2006, institutions will be required to standardize the "hand-off" of patients between caregivers, with particular attention to assuring patients the opportunity to ask and respond to questions. Other goals include improving the effectiveness of communication between caregivers and the active involvement of patients and their families in the patient's care for the safety of the patient.
To help hospitals across the country meet JCAHO's new National Patient Safety Goals by incorporating the Vidatak EZ Board as a standard of care for mechanically ventilated patients, Vidatak has upgraded the patient communication board to include:
Translation into 15 new languages
A bedside rail holder that allows patients easy access and ability to store their EZ Board within reach
These changes are in addition to the EZ Board's standard patient communication features, which include:
Large, easy-to-read text in either Spanish or English
An "I Am" column to indicate state of being (I am short of breathe, I am thirsty, I am afraid, I am in pain, I am unsure of what is happening)
An "I Want" column to indicate wants and needs (I want to be suctioned, I want my family, I want a blanket, I want the lights on or off)
Pictures of the body which the patient can use to indicate needs in a certain area
Color-coded pain intensity levels from 0-10 to describe listed discomforts (itching, stinging, cramps, can't move, is numb, burns, is tender)
A time frame so the patient can indicate when he or she would like these needs met (immediately, later, as soon as possible)
To learn more about the Vidatak EZ Board patient communication board and how it can aid compliance with the Joint Commission for Accreditation of Healthcare Organization's National Patient Safety Goals for 2006, visit http://www.Vidatak.com or call 310-550-5856.
About Vidatak, LLC
Working as a critical care nurse at UCLA's Cardiothoracic ICU while also studying for his medical degree, Lance Patak often witnessed the frustration and despair of patients who were unable to communicate verbally, often because tubes had been inserted through their vocal cords and into their lungs to clear their passageways. In 1999, Patak developed a patient communication device called the Vidatak E-Z Board. In November 2003, Patak began marketing the Vidatak EZ Board with the help of medical school friend Bryan Traughber, now a gene therapy research scientist at the National Institute of Health in Washington, D.C. In the Winter 2006 issue of Marshall, Inc., Patak credits USC Marshall, where he is a first-year MBA student, with providing wisdom, resources, and guidance in improving, marketing, and distributing his patient communication board.
Xeal Inc. Professional Press Release Promotion
###