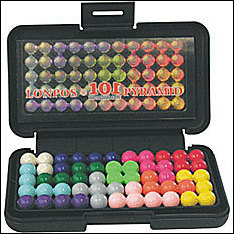 Savannah, GA (PRWEB) February 2, 2006
Mic-O-Mic Americas Inc. introduced their multiple - award winning line of Mic-O-Mic German designed and manufactured construction toys with their patented assembly system to North America in mid-2004.
Following the success of that launch, they decided in mid-2005 to take a look at an incredibly successful brainteaser game from Taiwan called LONPOS 101 Pyramid and Rectangular Game.
Having studied the game's title and the packaging and instruction manual, they decided it was not appropriate for toy store shelves in the West. Therefore, after consulting with various world-recognised toy gurus, the name was changed to LONPOS 101 Pyramid and Rectangle Game, the packaging was redesigned, as was the instruction manual. For example, the wording on the packaging and in the manual was contradictory and confusing - they each made reference to IQ levels of 28 to 280 (there is no record of levels as low as 28 nor as high as 280). Also, the game is meant to be for 8 year olds and up (possibly younger under adult supervision), but yet the packaging and manual made reference to being suitable for ages 6 to 106. Despite this, hundreds of thousands have been sold in Europe and the Far East since it was introduced there about two years ago.
The manual sets out 76 preset rectangle problems and 25 preset pyramid problems to solve using the 12 game pieces known as pentominoes. BUT, because of the endless possibilities, it has been calculated that the player can set as many as 360,984 rectangle problems and 2,582 pyramid problems to solve. It is also ideal for two or more players, each with a game, to compete against or collaborate with each other.
This game, as of the date of writing, has won the following awards:
Oppenheim Toy Portfolio Gold Seal Award;
Dr. Toy 's Best Children's Vacation Products, Best 100 Children's Products and 10 Best Games Awards;
Parents' Choice Foundation's Gold Award;
Parent to Parent Magazine's Adding Wisdom Award and Best Toy for Special Needs Award;
Creative Child Magazine's Preferred Choice Award;
The National Parenting Center's Seal of Approval;
The Family Review Center's Seal of Excellence and Top Product Award;
Toy Tips' Mark of Excellence ("A" Rating);
National Lekotek Center's AblePlay™ Ratings for Children with Disabilities – Two Stars for Physical Disabilities, and Three Stars for each of Sensory, Communicative and Cognitive Disabilities.
Has any other game or toy ever won as many awards in so short a time?
Mic-O-Mic Americas Inc.'s version of this game also has been featured in US News and World Report (December 19, 2005 Edition), The Boston Herald Holiday Gift Guide (they featured Mic-O-Mic toys for their 2004 Gift Guide), Macomb County Daily News, NorthWest Baby and Child Newspaper, and has been mentioned in many other newspapers over the Holiday Season of 2005/6.
Retailing at around US$16.99-19.99, this is an ideal travel game which helps develop brainpower, IQ, concentration, math skills, cognitive and communication skills, hand-eye coordination, spatial relationships, etc.
It is to be exhibited at the American International Toy Fair for the first time in February 2006, at Booth #6257.
Additionally, during 2005 to add to those won in 2004, the following awards and recognitions were received for some of the Mic-O-Mic range of patented construction toys from Germany:
Sports car won a Best Vacation Children's Products Award from Dr. Toy;
Dragonfly Plane won an Adding Wisdom Award from Parent to Parent Magazine;
Helicopter won a Best Smart Play/Smart Toy Award from Dr. Toy; and a Toy Tips Mark of Excellence B+ Rating;
Large Breakdown/wrecker truck won a Best Smart Play/Smart Toy Award from Dr. Toy; an Adding Wisdom Award from Parent to Parent Magazine; and a Toy Tips Mark of Excellence B+ Rating;
Motorcycle with sidecar received a Toy Tips Mark of Excellence B+ Rating;
Small dump truck won a Creative Choice Magazine's Seal of Excellence
The range of Mic-O-mic toys now has now won 19 awards or recognitions from the toy experts.
# # #