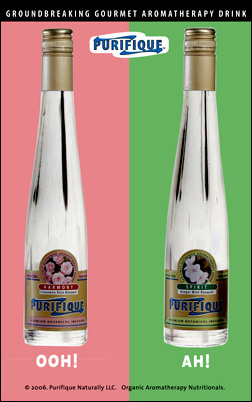 most innovative new foods and beverages.
Carmel, CA (PRWEB) February 1, 2006
Leading trendwatching site Ubercool.com today cited gourmet beverage maker Purifique for its Ginger Mint and Cinnamon Rose aromatherapy drinks -- touted among the "most innovative new foods and beverages."
Purifique has introduced the first authentic aromatherapy drink using premium-grade botanical formulations. By infusing with pure spring water Purifique releases the plant's naturally aromatic bouquets at just the right flavor proportion. The result is a new gourmet taste experience that is distinctly fresh and clean, and most importantly, delivers powerful uplifting and wellness benefits.
Ubercool Trend Analyst Michael Tchong recognized Purifique for introducing ultra aromatic, all-natural flavors through its infusion of botanical essences. According to Purifique, its unique infusions are oxygen-rich and feature phytonutrients delivering genuine mood enhancing and wellness benefits.
Purifique bouquets are packaged in an elegant gourmet-style glass bottle and golden airtight cap for optimum protection of its infused aromatherapy contents. A cool upscale look delivering an uplifting sensation makes Purifique the one alcohol-free choice able to compare with wine for table time.
Purifique Spirit -- this Ginger Mint Bouquet is delightfully refreshing and invigorating... the ideal aid for calming and balancing digestion... provides a discernible uplifting spark... clears your pallet... and delivers antioxidant, phytonutrient and metabolic wellness benefits. As a digestive aid best to use before or after meals or between courses; promotes joyful, focused mood before study or challenging situations.
Purifique Harmony -- this Cinnamon Rose Bouquet promotes beauty-from-within with a burst of floral aroma... the ideal drink for rejuvenating and cleansing... great for skin, diet support and circulation... provides a heady joyful boost... promotes calming and focusing... and also delivers antioxidant, phytonutrient and metabolic wellness benefits. As a rejuvenation aid best with deserts, vegetarian and Asia cuisines; helps regulate system balance with regular use.
Purifique beverages may be consumed straight or mixed. Best to keep chilled. Ideally served at 55° F/13° C n a cordial or favorite glassware. Allowing it to breath opens the full aroma of the bouquet.
Purifique is 100% pure and natural. No essential oils. No preservatives. No sweeteners of any kind. No sodium. No fats. Nothing artificial. Nothing added. Alcohol-free. Caffeine-free. Zero calories. Zero carbs.
For more information go to http://www.purifique.com
Purifique is sold at select gourmet and organic retailers and is available online in an intro 2-pack from the Purifique Website. Purifique Naturally LLC is seeking brokers and distributors. Inquiries welcomed.
Links:
http://www.purifique.com
http://ubercool.com
Purifique Naturally LLC. is dedicated to the development of authentic aromatherapy nutritionals. Bottled in California.
# # #