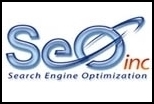 (PRWEB) February 1, 2006
Search Engine Optimization Inc., a premier search engine marketing firm, announces the addition of SEO copywriting to its comprehensive roster of highly effective search engine optimization services. SEO Inc. clients will now be able to benefit from professionally optimized content that not only achieves high rankings but also appeals to Internet consumers and yields increased revenue for the online business.
Understanding How Search Engines Operate
Search engines exist for the sole purpose of providing users with relevant results for their keyword searches. In order to provide search engine users with the results most pertinent to their searches, the major search properties send out spiders to crawl web pages. These spiders evaluate several distinct elements of a web page and then index and rank the web page based on the analysis of these properties.
Search spiders operate much like humans: they read the content of the web page in order to categorize the subject matter and determine whether or not the web page should rank for any given search query. Web pages leveraging keyword-rich content that is informative and well organized tend to rank high in the search engine results. Web pages with brief, vague content, however, rarely achieve premium rankings in the search results. Even the most informative graphics do not influence the ranking of a webpage because the spider cannot see the image. Instead, the spider reads the image filename and/or alt tag and classifies the image based on these properties (hence, the importance of including descriptive alt tags for every image).
Writing for the Search Engines
Effective search engine-friendly content achieves a strategic balance between keyword density and positioning, length of the copy, and relevant, original text. There are no hard and fast rules for writing search-engine friendly content, just general guidelines. Just like every website is unique, content that achieves high rankings for one webpage may not have the same results for another. In order to ensure your content is effective and contains all the necessary elements of SEO writing, it is prudent to enlist the services of a professional SEO copywriter who not only has extensive experience writing for the search engines, but who also has the resources and expertise to research and identify what type of content will work best for your particular webpage.
Satisfying Dual Audiences
The ultimate goal of any given e-commerce webpage is to enhance conversion rates and increase sales for the online business. However, search engine-friendly content does not necessarily translate into increased revenue because writing for the engines is markedly different than writing for the average Internet consumer.
Reputable Internet surveys demonstrate that less than 16 percent of Internet consumers read an entire webpage from start to finish. Most Internet consumers scan the page for information relevant to their interests. If consumers do not find the information they are looking for within the first couple of minutes, they will exit the website.
Web writing that performs well with consumers is usually brief and broken into clearly defined, manageable sections. Internet consumers also value concise writing with bulleted lists and low word count. These characteristics are generally not conducive to effective SEO content. In order for content to achieve high rankings and entice the webpage visitor to take action, professional SEO copywriters must tactfully fuse these two writing styles.
Writing search engine-friendly content that also appeals to the average Internet consumer is a specialized skill. Online marketing experts strongly recommend businesses enlist the services of a professional copywriter in order to maximize the effectiveness of the webpage content and ensure the content achieves all its goals. At Search Engine Optimization Inc., we have team of qualified copywriters experienced in writing dynamic content that appeals to both audiences. Our copywriters will help ensure your content not only achieves high rankings and improved Web visibility, but also yields increased sales and a high ROI.
About Search Engine Optimization Inc.
Search Engine Optimization Inc. is a professional search engine optimization firm that specializes in achieving high rankings for their clients on the Internet's major Search Engines. Leveraging more than 40 years of combined Internet marketing experience, SEO Inc.'s certified search engine specialists have developed and honed a suite of highly effective, proprietary optimization and marketing methodologies that have placed more than 300 leading corporations in the top rankings of world's leading search engines.
###