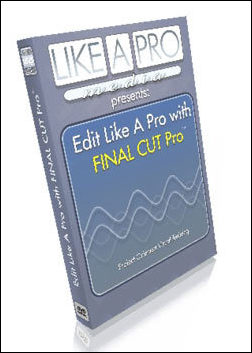 Final Cut Pro has finally earned its spot as a professional level solution for all types of non-liner editing needs
Philadelphia, PA (PRWEB) February 2, 2006
Like A Pro, LLC, - creators of multi-media software training video announced the wide release of "Edit Like A Pro with Final Cut Pro 5," a 4 DVD set offering nearly 6 hours of in-depth training for the popular Non-Linear Editing software package, Final Cut Pro 5. Edit Like A Pro with Final Cut Pro 5 lets beginner and intermediate users of Apple's Final Cut Pro Software – or Advanced users who are migrating to Final Cut Pro Studio – easily acquire the skills necessary to start editing on FCP software simply by following the project based, full-motion video tutorials using media included with the 4 DVD set.
Currently available at http://www.LikeAProMedia.com, Edit Like A Pro with Final Cut Pro 5 has just opened its distribution to value-added resellers, accredited schools, universities, and affiliates with tremendous results.
"Every time we invest 6 to 9 months creating a Like A Pro Title, we get much better at understanding the needs of the Editor, and consequently, the training gets more efficient, and the learning process becomes a lot more fun," says Justin Paul, lead instructor for the training videos.
For instance, instead of a creating a typical "Survey of Features" tutorial, in Edit Like A Pro with Final Cut Pro 5 Paul decided to use the same workflow that 90% of all editors would use when executing a project in a professional environment as a basis for the training.
Edit Like A Pro with Final Cut Pro 5 walks the user through a typical editing project: capturing and organizing media, editorial problem solving, audio sweetening, titles, F/X and both tape-based and digital file output. Also included in the training set are tutorials for HDV Capture, Multi-Camera Editing, using Apple's Soundtrack Pro, DVD Studio Pro, and tutorials for exporting video to the Apple iPod.
There's a lot to the training, because there's a lot to Final Cut Studio.
"Final Cut Pro has finally earned its spot as a professional level solution for all types of non-liner editing needs," says Andy Jenkins, CEO of Like A Pro.
Jenkins recently served as Post Production Supervisor and Associate Producer for the Feature Film "Altered" which is being distributed by FOCUS FEATURES (Brokeback Mountain, Eternal Sunshine of a Spotless Mind, Pride and Prejudice, Shaun of the Dead, Lost in Translation, etc.).
Altered was cut completely on Final Cut Pro 5.
"As the Post Sup, one of my first jobs was to pick an Editing System for the production. Most of the time, there's not much of a conversation about it – folks would just default to Avid. Not this time." Altered is the first film to be created by the makers of "The Blair Witch Project" since the original release of that film some 6 years ago. "The Blair Witch Guys are proudly Independent film makers who like to do things a little differently… and (laughs) we had a little more money to spend on post this time around." The production could have used any editing system currently available on the market, but "being the rebels that we are" decided to go with something outside of the mainstream.
That decision has paid off handsomely in many ways: "First, we were able to interface seamlessly with ALL of our vendors, and since Skywalker Sound was our pick to do sound design and final mix on Altered, we were a little anxious about how Final Cut Pro would hand media off for finishing." As it turns out, they had nothing to worry about. "It was kind of like cheating – Final Cut Pro made it easy".
And even though the Editorial department had never cut a feature on Final Cut Pro, Jenkins was confident they could pull it off. "People were telling me "Andy, are you nuts!? Why would you risk the post production of a high-profile feature film on FCP, especially when the editorial staff has never finished one on this box?"
His answer raised some eyebrows at the studio: "I can give them a copy of Edit Like a Pro with Final Cut Pro and if we get into a jam, we can always talk to Justin, the instructor on the DVDs"
They never had to talk to Justin.
Justin Paul, a 12-year veteran editor and instructor for Edit Like A Pro was very particular about the way the tutorials were presented. "It's hard to watch 6 hours of ANYTHING, let alone training material. So, from the moment we started developing the courseware, we committed to making the tutorials "High-Fiber with a more than a hint of Sweetness."
So on DVD 4, Justin included footage of a martial arts scene where a software analyst squares off against a 7-foot tall (to the tops of the ears) martial arts-trained stunt man in a Furry Rabbit Suit.
"Risky for training media? Sure. But, the feedback we've received from customers has been wonderful."
Robin Cowie, Producer of the original Blair Witch Project, and long-time editor remarked "It's so much fun you ALMOST forget that you're learning so much."
"That", says Andy Jenkins, CEO of Like A Pro "is exactly the kind of response we were shooting for."
About Like A Pro, LLC: Founded by industry professionals, Like A Pro is dedicated to reducing the learning curve of today's advanced Television and Film Post Production Software. With more than 30 years combined industry experience, Like A Pro's members have a proven track record of successful, award-winning productions in the Commercial, Direct Response, Corporate Training, and Feature Film industries.
For more information, or for reseller and education information, please visit our Final Cut Pro Training DVDs at http://www.likeapromedia.com or visit the information page directly Final Cut Pro 5 Training DVD info.
###