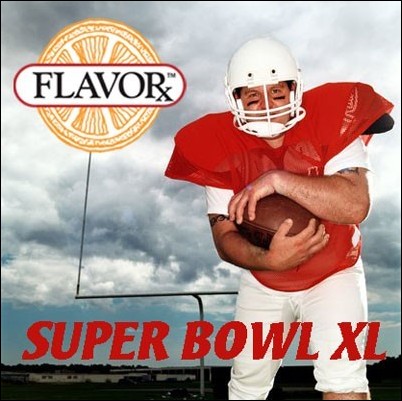 This is such a great opportunity for us. It is really a way to link FLAVORx with an exciting and unique nationwide event
Bethesda, MD (PRWEB) February 2, 2006
Ten years ago, Kenny Kramm wasn't sure how to get his business off the ground. Now his company is going to the Super Bowl. As a company dedicated to improving children's health and well-being, it is of no surprise that FLAVORx, Inc. will be a sponsor at the Kids Interactive Detroit Spectacular (K.I.D.S.) this Saturday, February 4th, 2006. This Super Bowl Weekend event is designed around an interactive afternoon of games, displays and entertainment attractions specifically for kids. All proceeds will benefit Athletes Against Drugs, an organization with a vision to help youth make healthy life decisions and develop skills that will change their lives.
FLAVORx will be sponsoring an entirely kid-friendly activity booth that will include an event photo souvenir, prize giveaways, and a multitude of assorted take-home gifts and Super Bowl rememberances. In addition, FLAVORx will be revealing the details of its upcoming Nationwide Search for the FLAVORx SuperKid. The booth will coincide with other K.I.D.S. attractions like photo and autograph opportunities, a NASCAR Drivers/Coaches Clinic, NASCAR cars, coaching lessons and a football clinic. The focus of the event is to offer a chance for children to learn and try a multitude of new sports and activities, as well as interact with professional sports figures who can provide a positive influence on their lives. K.I.D.S. will take place from 11am to 3pm at the Majestic Theatre in downtown Detroit with an expected attendance of 800-1000 people. All children under 12 are free.
The Super Bowl is one of the most popular events in America, as shown clearly by the nearly 133 million viewers who watched last year's game. It is anticipated that the Super Bowl alone will bring approximately $342 million to the Detroit economy in the form of events, parties and entertainment in general. NFL officials claim that the Super Bowl is the most popular event in America for businesses to wine and dine clients and employees.
But Kramm wanted a different approach, one that would combine the action of the Super Bowl scene with benefiting the community. "This is such a great opportunity for us. It is really a way to link FLAVORx with an exciting and unique nationwide event," says Kramm. "For us to be involved in an event that makes a fun, positive impact on children's lives is truly rewarding and reflects our mission to promote the health and well being of children."
Athletes Against Drugs was founded by Stedman Graham and has impacted the lives of over 20,000 children by demonstrating the positive effect of sports. The organization is a leader in the fight against the devastation of gangs and drugs. Over 300 famous-name athletes, all superstar professionals or Olympians, form a group of drug-free role models that guide kids to make the right choices for productive lives.
FLAVORx sets the industry gold standard for safe, effective medicinal flavorings. Scientifically-tested and specifically developed for both over-the-counter and prescription medications, FLAVORx has flavored over 50 million prescriptions without any incidence of changes in efficacy, adverse reaction or complication.
For more information, please contact Teresa Chen at 800.884.5771.
# # #