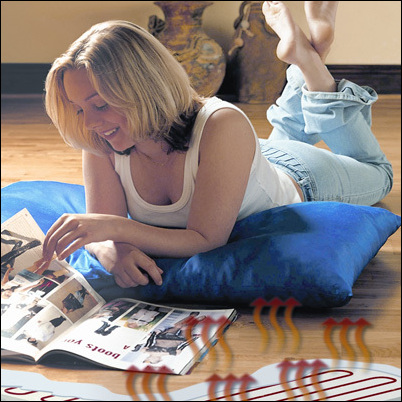 We are offering select distributors the opportunity to align with our company early on so we may jointly tap into this growing market and provide customers with a quality, world-class comfort product.
Atlanta, GA (PRWEB) February 2, 2006
As interest in floor heating continues to warm up in the U.S., progressive flooring retailers are exploring new ways to profitably offer "add on" heating products for their customers. Speedheat® — the world leader in Generation4™ electric radiant floor heating — has recently introduced woodBEwarmer™ — a new and unique product line that eliminates past concerns over potential thermal damage to sensitive hardwood flooring materials and offers the easiest installation in the industry.
In a move to rapidly expand their growing presence in the U.S., Speedheat is now seeking distributors for their unique woodBEwarmer heating mats. While relatively new to the U.S., Speedheat has offices in 10 countries and is currently heating more than 30 million square feet of space throughout the world. Interested parties may contact Peter Newman, President of Speedheat U.S., at 1-888-WARM FLOOR for more information.
"In the next 10 years, electric radiant floor heating will be as popular in the U.S. as it currently is in Europe and Asia," predicts, Mr. Newman. "We are offering select distributors the opportunity to align with our company early on so we may jointly tap into this growing market and provide customers with a quality, world-class comfort product."
Because Speedheat's patented Generation4™ (G4) heating element is optimally engineered to be "in touch" with floor finishes, it warms floors faster than any other systems and at lower, safer temperatures. Speedheat's G4 element improves comfort, protects sensitive flooring and slashes energy consumption.
"Unlike competitor products that must be embedded in a rather thick thin set compound under the padding, Speedheat's G4 element, encapsulated in a porous polyester carrier, is installed in contact with floating wood or laminate floors directly on top of the insulating underlayment," explains Mr. Pieter Jansens, Chairman of Speedheat International. "Trapped moisture is the biggest enemy of wooden floors, so Speedheat heating mats are porous, allowing the wood fibers to breathe in and out exactly as they would in nature."
Speedheat's single largest advantage, however, says Mr. Jansens is their 100% commitment to quality and satisfaction. "We offer a 100% satisfaction guarantee that applies not only to our customers, but also to our business partners. In short, we produce, deliver and stand behind our quality products, and we are backed by our 20-year reputation as a world-leader in the industry."
Speedheat's woodBEwarmer™ heating systems also feature fully programmable thermostats, so they can be set to come on only when needed, thus efficiently adding comfort while helping conserve and save energy to lower utility bills.
"Furthermore, only Speedheat is fully customized to meet the specific needs of each application," explains Mr. Jansens, the product's inventor. "A consumer's comfort preferences, the geographical location and function of the room, floor coverings, subfloor construction and even micro climates are all considered before a Speedheat solution is created. Other companies offer a 'one system for all coverings' approach and only increase the element pitch to achieve reduced power per square foot, but without reducing the output per lineal foot, like Speedheat does, this 'one for all' approach stresses and can partially overheat a sensitive floor. Our ability to truly customize appropriate solutions sets us apart."
Speedheat's feather thin heating element is less than 1/16" in diameter and easily embeds itself in the padding. The warming panels consist of G4 looped element laminated between two layers of polyester. The full-surround ground screen is an effective EMR, EMI and RF shield, and GFCI protection provides absolute electrical safety. All Speedheat products have undergone rigorous testing, including complete submersion in water while energized. Speedheat's products are all UL-listed and National Electric Code (NEC) compliant.
The ability of Speedheat to heat from the ground up produces evenly heated rooms that are more comfortable at lower temperatures, allowing users to reduce thermostat settings; thus saving energy and lowering heating costs. Speedheat's radiant heating products also help allergy sufferers by reducing the levels of dust, pollen, mold, and other environmental pests spread by conventional forced air heating systems making the home a healthier place to live.
Speedheat Also Seeking Distributors for RugBuddy:
Speedheat U.S. is also seeking more distributors in America for their unique RugBuddy™ product. RugBuddy is the only UL-listed heating mat in the world, approved for use under area rugs. Like an electric blanket for the floor, RugBuddy is a zone heating solution that turns regular area rugs into invisible space heaters and is safe over any flooring material including carpet, hardwoods and tile.
For more information about distributor opportunities for woodBEwarmer™ or RugBuddy™ please contact Peter Newman at 1-888-WARM FLOOR or visit http://www.speedheat.us.
About the Company:
Speedheat's Generation4™ is the only electric radiant floor heating company in the world with products designed to safely and efficiently warm directly under the different flooring materials including: exotic stone, marble, granite, ceramic tile, floating wood, laminate, vinyl, carpeting and area rugs. Speedheat systems are an energy efficient alternative heat source for any room including the basement, sunroom, bathroom, kitchen, bedroom, living room, etc. RugBuddy™ woodBEwarmer™ CarpetMate™ and TileWarm™ are all products of Speedheat International.
As the inventors of Generation4™ electric radiant underfloor heating, Speedheat has produced quality heating solutions since 1985. Speedheat has offices in Australia, Belgium, France, Germany, Italy, Netherlands, South Africa, Spain and the United Kingdom. Their United States headquarters are based in metro Atlanta (Woodstock), Georgia.
While relatively new to the U.S., Speedheat is attracting media attention. This Old House Magazine featured Speedheat in their "20 of the Year's Coolest Tools, Gizmos and Gadgets" list for 2004. Speedheat also received coverage in Atlanta Home Improvement Magazine and Atlanta's Points North magazine, was profiled on HGTV's International Builder's Show 2004 program, was featured on FloorRadio and FloorDaily.net and has appeared once on the Ask Andrea™ nationally syndicated home improvement radio show and has been asked to reappear again soon.
Contact:
Ingrid Weir
Speedheat US
http://www.speedheat.us
888-927-6356
# # #