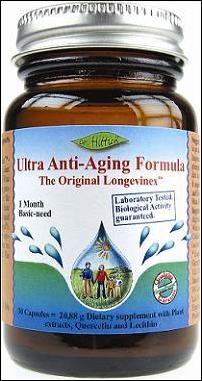 San Dimas, CA (PRWEB) February 3, 2006
Greenpower, Europe's leading direct distributor of natural health products, has chosen Longevinex™ red wine capsules for distribution throughout Europe. Longevinex is the world's first preserved red wine resveratrol pill produced in an airtight capsule (Licaps- Capsugel®).
Dr. Reinhard Hittich of Greenpower (Netherlands) selected Longevinex capsules, specially produced in chlorophyll green non-animal vegetable capsules, for its unique combination of natural ingredients (resveratrol, quercetin, rice bran and lecithin) derived from grapes, rice, soy and other botanical sources. Resveratrol's active form (trans resveratrol) is rapidly converted into a less active molecule (cis resveratrol) upon exposure to the environment unless it is specially preserved. The contents of Longevinex capsules have not been exposed to light, heat or oxygen during processing, similar to how research-grade resveratrol is produced for research laboratories.
Recently red wine resveratrol has received worldwide acclaim as the primary molecule responsible for the French Paradox, the fact the French consume a high-fat diet live long and healthy. Many of the health benefits of resveratrol are explained in the new book, The Red Wine Pill, by health reporter Bill Sardi, now available in German translation at http://www.anti-aging-durchbruch.com
For further information about Longevinex™ Greenpower Ultra Anti-Aging Formula, contact GreenPower B.V., Postfach 3022, NL-6460 HA KERKRADE, The Netherlands, Toll-free telephone: 0800-1 827 728 or directly at the following webpage: http://www.greenpower24.com/catalog/product_info_blank.php?products_id=10112
# # #