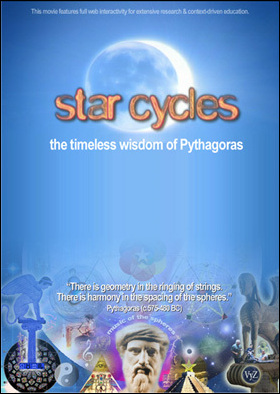 It's fun to watch. The soundtrack is very experimental, but also very effective. Great job!.
Williamstown, MA. (PRWEB) February 2, 2006
In its new DVD release, "Star Cycles - The Timeless Wisdom of Pythagoras," The Pritchard School of Digital Arts has successfully achieved an unusual blending of youth education and entertainment, bringing fun back into learning.
The Pritchard School of Digital Arts, a multimedia education and production company, in concert with their in-house "music for movies" filmmaking band, "VyZ," announces the release of this new innovative DVD title, which was created to expose students of all ages to the teachings of the legendary Greek Master, Pythagoras, and inspire enthusiasm for Math, Music, Geometry and Astronomy. Animation from the Space Telescope Science Institute, NASA, and The European Space Agency is seamlessly blended with state-of-the-art music visualization using G-FORCE by Soundspectrum, Inc. Educators will be interested to know there are context-driven, interactive links from the DVD that directly access a companion Web site when being viewed on a computer. The original music performed by "VyZ" is presented in dolby digital 5.1 surround sound.
To facilitate learning and classroom integration, the Web site provides detailed study guides and essay questions for students to answer and e-mail back to teachers and/or parents. Educators are also provided with national curriculum guidelines that are relevant to the new DVD release. "Star Cycles - the Timeless Wisdom of Pythagoras" is designed as a springboard for learning about both the mathematical and musical nature of the Universe, as well as, the Pythagorean roots of our modern world in democracy, science and art.
The Wisdom of Pythagoras:
Most of us only know about Pythagoras through the Pythagorean Theorem we learned in our middle school geometry class. "Star Cycles - the Timeless Wisdom of Pythagoras" provides a wealth of knowledge across many academic disciplines that Pythagoras introduced over 2,500 years ago. The great Greek philosophers, Socrates, Plato, and Aristotle, were all deeply influenced by Pythagoras and his teachings, as were the great scientists and artists of the Renaissance, such as, Galileo, Kepler, Copernicus, DaVinci, and Michelangelo. Einstein used the Pythagorean Theorem to develop his theory of Special Relativity. String theory in Quantum mechanics is right in line with the Pythagorean idea of strings vibrating in harmony to create unity at all levels of life. Perhaps the greatest contribution from Pythagoras was in his discovery of the musical octave via mathematical ratios that is the basis for all Western music.
An Educational DVD Integrated with Companion Web site:
The new DVD release is organized into ten 3-12 minute learning modules that introduce concepts and facts about math, music, geometry and astronomy and take students on a learning adventure through the Universe, the Milky Way, the Precession of the Equinox, our Solar System, the Sun, Mercury, Venus, the Earth, Human Evolution, Modern Times and the Life Cycles of the Stars. In each module or section, students are introduced to the content on the DVD and can then go to the "study guides" on the companion Web site to learn more detail before completing essay questions that can be e-mailed to their teacher and/or parent. Bonus features on the DVD introduce students to "The Octave" and more challenging subject matter about "Musical Ratios" in relation to the Pythagorean "Tetraktys." More than anything, it promotes youth education and a desire to learn.
"As a teacher, I know how wonderful it is to find resources that spark a student's imagination and help them focus on the subject at hand," said "Star Cycles" director, John Pritchard. "By developing an interactive DVD that was tightly connected to a companion Web site, we knew that the information could be wide and deep. Students of all ages, whether they are playing the 'Star Cycles DVD' on a computer or watching on a TV screen, will enjoy the way the movie presents new information and arouses their curiosity to learn more on the web. What I really love is the fact that a student can independently learn something new and then simply e-mail their teacher with responses to essay questions about what they just learned. I like the idea that DVD learning can free up a teacher or parent for more meaningful, one-on-one, quality time with students."
DVD Soundtrack:
In addition to the "Star Cycles" new DVD release, there is the "Star Cycles DVD Soundtrack" release that features the world famous G-FORCE music visualization synchronized to the music without any additional imagery or narration. This "visual music" DVD provides a highly entertaining and mesmerizing experience. Special guest on keyboards, Adam Holzman, an alumnus of Miles Davis and Grover Washington, says "It's fun to watch. The soundtrack is very experimental, but also very effective. Great job!." Adam adds his creative groove to the "VyZ" improvised sound of Charlie Tokarz on sax and flute, Rich Damone on bass, and John Pritchard on drums and synth. Rick Calic at jazzrockworld.com said, "Star Cycles is a spectacular DVD of visual and sonic improvisations... Spellbinding." Of course, the music can be better appreciated with the music visualization of G-FORCE keeping the eyes and brain connected to the music in ways that would never happen otherwise. Bass player, Rich Damone, reported, "One student got on his cellphone and started calling all his friends to check out the 'cool' DVD and another said he could sell 500 without blinking an eye." Needless to say, the entire "VyZ-music for movies" band was happy to hear their cinematic music went over so well to the twenty-something crowd of heavy metal fans.
Recommended for all ages, the "Star Cycles" DVD is produced for teachers, parents, librarians, youth education, and students by the Pritchard School of Digital Arts. The "Star Cycles DVD Soundtrack" is produced for everyone curious about the "visual music" experience and eager to hear the full-blown soundtrack of the Star Cycles movie. The "VyZ" band will be touring colleges and high schools to provide concert/clinic events to celebrate the genius of Pythagoras. Available at Amazon.com, the "Star Cycles DVD" is $24.99 and the "Star Cycles DVD Soundtrack" is $19.99. Visit Star Cycles more information.
About The Pritchard School of Digital Arts:
The Pritchard School of Digital Arts is a multimedia education and production company founded by award-winning designer and filmmaker, John Pritchard. The company provides professional training and consulting in digital filmmaking and interactive design for the web and DVDs. The "Star Cycles" DVDs are the third project for "VyZ," the in-house "improVyZed music for movies" band of filmmaking musicians. The first DVD project, "UNUM - Out of Many, One," produced in 2003, champions the spirit of JFK and features a dozen visual soundtracks by the band and is currently being enhanced with narration and 5.1 surround sound. The second "VyZ" project, "Novus - A New Order of the Ages," released in 2004 and available at Amazon.com, celebrates the genius of Nikola Tesla and features the animation of Ray Harryhousen, Max Fleischer, and John Sutherland. Headquartered in Williamstown, MA, the goal of the Pritchard School of Digital Arts is to inspire digital creativity with its students and build a library of interactive, educational films and "visual-music" soundtracks. For more information about the school or its new DVD release and how It can be used for youth education, visit Pritchard School. Press inquiries should e-mail John Pritchard.
About Soundspectrum:
SoundSpectrum was founded to create the most exciting experience at the intersection of music and technology. Based in New York, SoundSpectrum is the leader in music visualization technology – digital art that provides a real time visual connection with the music. SoundSpectrum's world-renown G-Force and WhiteCap visualizers are available in personal and professional versions. G-Force is the most dynamic and sophisticated, yet entirely artistic, music visualization available — and it keeps getting better. For more information, visit Soundspectrum.
© 2006 Pritchard Digital Arts. All Rights Reserved.
Contact Information
John Pritchard
Pritchard School of Digital Arts
http://www.pritchardschool.com
413-458-8768
# # #