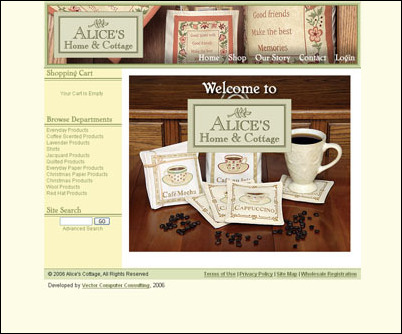 Our company has been a leading manufacturer in fabric gifts and country home decor for over 23 years
Hagerstown, MD (PRWEB) February 6, 2006 –
Alice's Home and Cottage, internationally known for unique fabric gifts and kitchen table linens, is releasing its newest product line at AlicesCottage.com. Now shoppers can find artfully crafted, heartwarming items with kitchen decorating themes from traditional to country combined with the convenience of Internet ordering.
AlicesCottage.com offers the best in quality home decorating textiles. Its country home decor includes wool pillows, country style curtains, door draft stoppers, and many other home decor accessory choices. The new spring line features coffee-inspired products as well as fabrics with fresh spring images of fruit and flowers. Additionally, Alice's Home and Cottage manufacturers a large variety of designs for both new and vintage homes, including kitchen table linens, kitchen dish towels, interior design table runners, placemats and napkins and paper products such as recipe cards. Many items are scent-filled for added enjoyment.
One of the most unique features of the business is that Alice Backman is the creator and sole designer of every product offered by the company. Backman is co-owner of the company with her husband Per-Olof Backman. Together, the Backmans are personally involved in the manufacturing of each item, including developing the paint colors used to silkscreen Alice's original art onto gift bag totes, sachet bags, spiced mug mats, and useful and attractive items.
"Our company has been a leading manufacturer in fabric gifts and country home decor for over 23 years," said Alice Backman. "We pride ourselves on quality products, exceptional customer service, and a dedication to excellence. During our business hours, when you give us a call, you'll speak to a knowledgeable and caring human being and not a recording. We still believe that personal contact continues to be the best way to do business."
Alice's Home and Cottage blossomed into a full-time business in 1979, when the Backmans left city life behind and settled in a small village in the Blue Ridge Mountains of western Maryland. The business grew gradually as item after item was designed, perfected, and added to the company's inventory. The new Spring 2006 collection reflects Alice's ongoing love of fabrics, nature, and art.
At AlicesCottage.com, online shoppers will find a broad selection of decorative home accessories clearly categorized into departments. This makes the site especially easy to navigate and allows shoppers to see the company's full product line. In addition to decorative home accessories, visitors to the site also will find comfortable, timeless Colonial period clothing for men and women.
About Alice's Home and Cottage:
Alice's Home and Cottage, including the AlicesCottage.com site, is a family-owned and family-operated business in its 24th year of operation. The line of country kitchen decor, decorative home accessories, and gift items has become internationally known for its heartwarming designs. Alice's Home and Cottage is run by Alice and Per-Olof Backman and is based in the Blue Ridge Mountains of western Maryland.
# # #