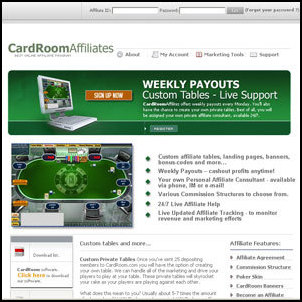 Miami Beach, FL (PRWEB) February 6, 2006
The CardRoom.com affiliate program offers webmasters/affiliates the ability to set up custom tables, landing pages, bonuses, and tournaments all while receiving weekly payouts, a personal affiliate consultant and more. Current affiliates are thrilled with the live updated affiliate tracking software offered by CardRoom.com.
The custom private tables offered to affiliates allow them to generate more rake on average than a standard table, as their own players are playing against each other. This usually means about 5-7 times more revenue generated for the affiliate.
Customizable bonus codes, and landing pages offer the easiest and most secure ways to track player signups. Affiliates also have the ability to request private tournaments and freerolls for their players. These private tournaments give affiliates even more options to entice players.
The program offers the ability to cash out profits anytime. Weekly payouts are placed into an affiliates account every Monday. This gives the option to choose how you'd like to be paid: Neteller, Firepay, check, Western Union, ATM card, etc. CardRoom.com treats its affiliates as good as their players. No one else in the industry pays this often!
Upon signing up, you will be assigned a person affiliate consultant that will contact you to discuss your immediate needs. You'll receive guaranteed 24/7 affiliate support with your own private consultant, available via phone, e-mail, or instant messenger. English speaking and experienced consultants offer advice and support for the poker industry.
Unlike other affiliate programs where you simply register, get a link and get sent on your way, CardRoom.com looks forward to developing a lasting relationship with the top CardRoom on the net.
With all of the new features, the affiliate program at CardRoom.com is definitely one to check out.
# # #