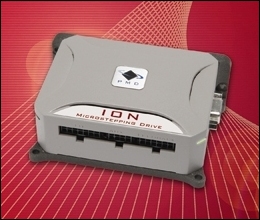 Lincoln, MA (PRWEB) February 2, 2006
Performance Motion Devices, a world leader in motion control technology, introduces the ION™ Microstepping Digital Drive. ION is a fully enclosed module that provides high performance motion control, network connectivity and amplification in a compact, easy to use package for DC brush, brushless DC or step motors. Built upon the advanced Magellan Motion Processor, ION delivers incredible performance at a breakthrough price. It is ideal for medical, scientific, semiconductor, automation, industrial and robotic applications.
The ION microstepping motion-control-module supports two-phase bipolar motors, and can automatically switch between user-defined current modes. The resolution is programmable up to 256 µsteps/step. ION provides asynchronous serial (RS485) or CANbus network communications. Selectable profiling modes include S-curve, trapezoidal, velocity contouring and electronic gearing. The ION Digital Drive accepts commands over the communications network such as position, velocity, acceleration and jerk, and generates a corresponding trajectory on-the-fly.
In addition to trajectory control, the ION-Digital-Drive provides instructions to initialize and control the motion application, monitor performance, and synchronize overall drive behavior. Working with the ION Digital Drive, PMD's powerful Pro-Motion® GUI makes it easy to graph and analyze system performance, while C-Motion® and VB-Motion allow you to develop your own application using C/C++ or Visual BASIC.
President and CEO, Chuck Lewin says, "Single-axis motion controllers such as ION have a fundamental cost advantage over off-the-shelf, card-based approaches. For example, when you use multi-axis motion cards with off-the-shelf amplifiers, the per-axis cost is substantially higher than the cost of an ION. And as a bonus, you have fewer cables and greater reliability. Basic economics is a big factor driving engineers to these all-in-one controllers."
Prices start at $223 in OEM quantities.
Visit http://www.pmdcorp.com
Performance Motion Devices Inc. (PMD) is a world leader in motion-control ICs, boards and modules. PMD provides a full range of high-performance single and multi-axis motion control products for DC brush, brushless DC and step motors.
# # #