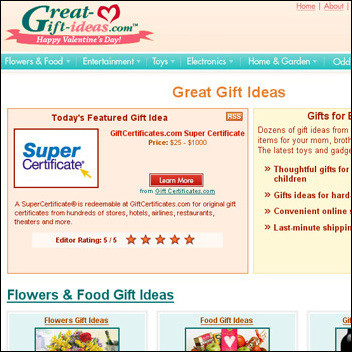 Austin, TX (PRWEB) February 3, 2006
Newly launched Great-Gift-Ideas.com is a fantastic resource for finding great gift ideas for hard-to-shop-for friends and family. Gift ideas are organized into the following categories for your gift-seeking convenience: Flowers & Food, Entertainment, Toys, Electronics, Home & Garden, Odds & Ends, and Gift Cards.
For Valentine's Day, Great-Gift-Ideas.com suggests visitors check out the Flowers & Food and Gift Cards sections. In addition to traditional bouquets and gift baskets, visitors can find gift of the month clubs including chocolate and wine of the month clubs for their Valentines. Gift cards are available for retail stores and restaurants across the US so visitors can give their Valentine the gift of choice!
The Gift Cards section of Great-Gift-Ideas.com has retail and restaurant gift cards, as well as services gift certificates (such as gift certificates for house cleaning) and experience gift certificates (such as a spa package and gift certificate). Discount gift cards are available for hundreds of popular stores, including Blockbuster, Restoration Hardware, JC Penney, and more. Visitors can also make printable gift certificates for most retail and restaurant gift certificate purchases. "I was able to purchase a Restoration Hardware gift card for my wife the day of our anniversary and hand her a printed certificate that night," said Danny Butts, "Great-Gift-Ideas.com made me look completely prepared. It's a life-saver!"
In addition to gift cards, Great-Gift-Ideas.com features garden gift ideas for moms, electronic gift ideas for boyfriends, entertainment gift ideas for music and movie-lovers, and kid gift ideas including puzzles, games, and educational toys. The gifts in each category range from traditional items such as fruit baskets in the flowers and food section, to exotic items such as helicopter tours in the experience gift certificates section. Regardless of who visitors need to shop for, they will find something for everyone at Great-Gift-Ideas.com!
About Great-Gift-Ideas.com:
Great-Gift-Ideas.com was developed by a team interested in providing a complete website for finding gifts for hard-to-shop-for people, logically organized, with suggestions for specific holidays and roles (moms, boyfriends, etc.). The site organizes gift ideas into 7, easy-to-understand categories and boasts one of the most comprehensive selections of gift cards available.
# # #