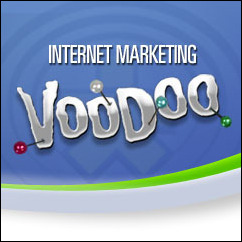 We are getting great feedback from our listeners. Our first four episodes are really doing their job of helping corporate executives understand emerging marketing trends in under 15 minutes
Maitland, FL (PRWEB) February 5, 2006
Internet Marketing Voodoo storms to number one, topping iTunes' chart for Internet marketing podcasts. Still in its infancy, the weekly podcast show has edged out over forty marketing-related podcasts, nearly tripling its subscriber base in one month.
MindComet, the agency developing the podcast, has brought on prestigious guests within the online marketing industry to uncover the myths and theories behind Internet marketing. Guests include Director of Interactive Services for Darden Restaurants, Michael Friedman, and President of Dozier Internet Law, John Dozier. Coupled with show host personality, Ted Murphy, President and CEO of MindComet, they have covered topics from podcasting to the legal issues with corporate blogging, online communities and loyalty programs.
"We are getting great feedback from our listeners. Our first four episodes are really doing their job of helping corporate executives understand emerging marketing trends in under 15 minutes," said Murphy. "We have an incredible lineup of guests joining us in the coming weeks."
Internet Marketing Voodoo is the first MindComet branded podcast. The agency is well known for developing podcasts for their Fortune 1000 clientele. MindComet's Internet Marketing Voodoo demonstrates to their clients the ability to reach a targeted segment of the estimated six million podcast listeners.
The "Voodoo" series launched in January 2006 with new episodes broadcasting weekly. To subscribe to Internet Marketing Voodoo visit the podcast section of iTunes or http://www.internetmarketingvoodoo.com.
MindComet's Managed Podcast Services
MindComet assists clients in optimizing their customer relationships. Their Managed Podcast Services bring Fortune 1000 companies the ability to narrowcast their branding to a segmented market of listeners. They work cooperatively to develop a customer relationship strategy that strengthens the bond to both existing customers and prospects through leveraging emerging technologies and mediums such as podcasting. For more information on MindComet's services call 866.650.7919.
February 2006 is Podcast Month at PRWeb. This press release distributed by PRWeb, the Online Visibility Company.
# # #