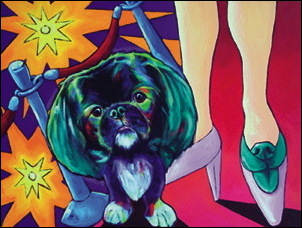 For most celebrities their dogs are part of their private lives, much like their children. And when someone like Joan Rivers places her dog in the spotlight like this, you know it's for a very special cause
New York City, NY (PRWEB) February 7, 2006
When well-heeled invitees to the AKC Westminster Fashion Show in New York received their invitations in the mail, the first face they saw was Dr. Max Rosenberg -- a Black Pekinese with a playful glint in his eye.
"Max's owner, legendary performer Joan Rivers, has a similar gleam in her eye. It's no wonder they have such great chemistry," says artist Ron Burns.
To benefit this dog-world event acclaimed artist Ron Burns was commissioned to paint a portrait of Joan Rivers canine pal. "Max" became the official image of the charity fashion show and a limited edition of the portrait, signed by Joan Rivers and Ron Burns, will be auctioned at the event.
"For most celebrities their dogs are part of their private lives, much like their children. And when someone like Joan Rivers places her dog in the spotlight like this, you know it's for a very special cause," says Burns. "It's been a tremendous honor to help her raise funds for canine health care in New York."
AKC Westminster Fashion Show is an invitation-only charity event scheduled Feb. 9, 2006, at the Pennsylvania Hotel in New York City. The beneficiary is AKC Canine Health Foundation.
Burns produced 20 limited editions of "Max" on archival paper, measuring 16" by 20". The remaining limited editions will not be available until 2007, when Burns plans a tour in the U.S. and Canada of celebrity dogs he has painted. Called "Dogs for a Cause" the sale of the limited editions on the tour will support the charities of each celebrity's choosing.
Burns has most recently painted beloved dogs owned by Elizabeth Taylor and Doc Severinsen Next he'll paint a portrait of a pooch owned by St. Louis Cardinals manager Tony La Russa.
Through his artwork Ron Burns has helped raise millions of dollars to benefit animal welfare. He is the official artist in residence of the Humane Society of the United States and is the official artist for National Dog Day, a new holiday to honor four-footed friends that will be first celebrated on August 26, 2006 with a grand parade in New York.
For more information, visit: http://www.RonBurns.com.
###