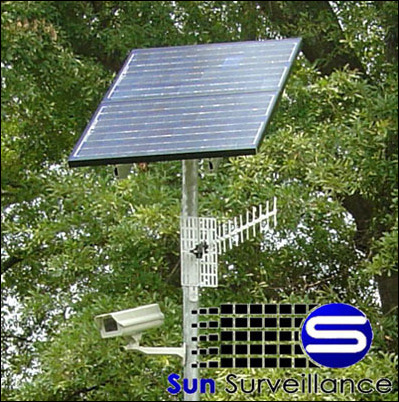 With technology that is constantly evolving it's a matter of time before we reach a substantial paradigm shift. The future of the wireless solar powered camera industry is bright and we've positioned ourselves to be the world leader.
Greenville, SC (PRWEB) February 10, 2006
Sun Surveillance has always been the pioneer in wireless solar power camera technology. With powerful backing and years of contributing its resources to the most formidable research and development team in the realm of wireless solar powered camera technology, Sun Surveillance has already achieved its first strategic step by producing the most reliable and affordable wireless solar powered surveillance system on the market.
Since the unveiling of SolsticeCam™ August of 2004, Sun Surveillance has achieved a 100% success rate in customer satisfaction for quality and reliability. "With an impeccable reputation for quality, reliability and customer service, we have acquired the financial backing to realize our dream of making our entire operation vertical" says Sun Surveillance President Chris Phillips.
With a new manufacturing facility and an expanding service department the last step to achieve a vertical operation was for Sun Surveillance to develop an elite sales force. Initially Sun Surveillance included distributors in their business model. However, this soon proved to be an impractical mode of operation. "What we learned from that experience is to rely on our core competencies of offering expertise and affordability. Some distributors we were involved with proved to be an ineffective solution because we soon realized that they were adding little value with increased cost to our wireless solar powered solution" Phillips explains.
By going vertical, Sun Surveillance has held on to their intellectual property and has reduced costs. "We've gone outside of the company and have hired the most knowledgeable and experienced Sales Representatives and dealers this industry has to offer. By doing this, we're set to achieve unprecedented success" states Phillips.
With their strategic plan now fully implemented the company continues to develop breakthrough wireless solar powered camera solutions. So what is the latest technology Sun Surveillance is set to offer? "We're not saying just yet, but we have now successfully developed a new platform of wireless solar powered surveillance products that will be revolutionary to the industry. Our VP of sales is looking to launch our new line in the Fall of 2006, maybe at ISC East" Phillips explains. "With technology that is constantly evolving it's a matter of time before we reach a substantial paradigm shift. The future of the wireless solar powered camera industry is bright and we've positioned ourselves to be the world leader."
For other news and related articles on Sun Surveillance you can visit their website at http://www.sunsurveillance.com
# # #