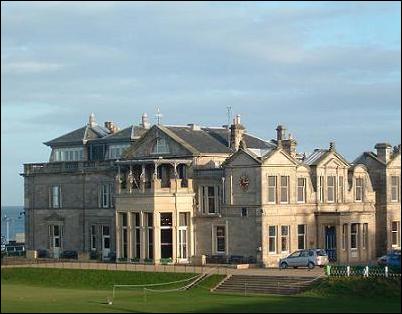 With fourteen trips to Scotland on his résumé and his membership in the Royal & Ancient Golf Club, Dean Knuth qualifies as an American expert in Scottish golf
(PRWEB) February 8, 2006
Golfers looking to plan a golf vacation to Scotland can learn how to get the most from their trip by using Internet websites while saving money with Dean's Scottish Golf Vacation Guide by Dean Knuth, a leading golf expert who is also known as the "Pope of Slope." The guide is an innovative e-book that allows online readers to go directly to web sites that are helpful in planning less-expensive golf vacations.
"With fourteen trips to Scotland on his résumé and his membership in the Royal & Ancient Golf Club, Dean Knuth qualifies as an American expert in Scottish golf," said Tod Leonard, golf editor for the San Diego Union Tribune. "He has produced a comprehensive, must-have online guide for anyone planning to visit and play there."
Dean's Scottish Golf Vacation Guide includes 250 website links so readers can easily find golf courses as well as his personal recommendations on places to stay, eat, and sightsee when on a golf vacation to Scotland. The guide also discusses the top golf courses to play, including the St Andrews Old Course and how to get tee times--most by e-mail. The helpful hints section provides detailed advice so that readers can make the most of their Scottish golf vacation.
"The consistent feedback that I am getting from readers is that this is the most useful golf vacation guide they have seen and is by far the most detailed," said Dean Knuth, author of Dean's Scottish Golf Vacation Guide.
Visit http://www.PopeofSlope.com/guide.html to:
Order Dean's Scottish Golf Vacation Guide for $20
Read a sample page and see testimonials
Learn valuable tips for golf vacations to Scotland
About Dean Knuth
Dean Knuth is a leading golf expert who is also known as the "Pope of Slope" because he is the prime developer of the USGA's Course Rating and Slope Rating System. The system is used throughout the United States and in most foreign countries today. He was the USGA's Senior Director of Handicapping for 16 years and he travels annually to Scotland. He also is a contributing editor to Golf Digest magazine. His website: http://www.popeofslope.com covers many topics including handicapping and course rating, pace of play and dealing with sandbagging.
Press Release Authoring by Xeal Precision Marketing
# # #