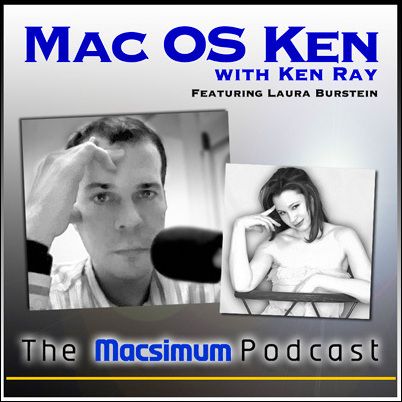 We are all very excited about the potential for this whole thing.
Nashville, TN/Jupiter, FL/San Francisco, CA (PRWEB) February 9, 2006
For the first time, three Apple -- specific community news organizations have joined forces to create a team-approach resource for the latest news and information regarding Apple -- dedicated news and information. Macsimum News, The Apple Groups Team (TAGteam) and Ken Ray of Mac OS Ken announce the creation of "MAC OS KEN: The Macsimum Podcast." The show will feature Ray's signature style of reporting along with special features by Laura Burstein and contributing news resources specific to the Apple/Macintosh computing community.
"This is a natural step forward for us as a new outlet now that our site has grown so quickly in its first 15 months -- and continues to grow," reports Dennis Sellers, Publisher and "Chief Macsimizer" of Macsimum News. Sellers created Macsimum News after his successful career as a reporter for other key Apple news sites left him dissatisfied with their content and political obligations. "I wanted to create a better alternative," Sellers continues, "and offer more than just press releases -- to have an opinion and, moreover, to ask our readers for their opinions." Macsimum News also offers entertainment reviews, product reviews from leading experts and now, with the addition of Ken Ray, the finest daily news anywhere -- online and off.
The Apple Groups Team (TAGteam) is a community-based organization with a successfull monthly newsletter, AUGmentations, that has a monthly readership of over 80,000. The organization's next logical step was also to provide members with a daily news podcast to go along with their current offerings. According to TAGteam's founder and president, Daniel East, "Ken's wit, style and insight into the full scope of what's important to the Apple-faithful are truly impressive and a lot of fun to listen to. Our board of directors is very clear in that he was not a choice, he was THE choice to do our podcast." Macsimum News' Sellers is also a board member of the TAGteam organization. Known for their exclusive interviews and information, AUGmentations has featured interviews with Steve Wozniak, Christopher Breen, Bob "Dr. Mac" LeVitus, Dave Marra, Deborah Shadovitz, Adam Engst, Jason O'Grady and many other key figures in the Apple community.
Ken Ray's original creation of his "Mac OS Ken" podcast resulted from the growth of his daily podcasts first heard from an online news outlet, but the popularity of that aspect of his work found larger audiences and the need for a new vehicle to deliver it. "I cannot say how excited I am to bring 'Mac OS Ken' to Macsimum News and The Apple Groups Team. What I strive to do is to simply bring news to the Mac faithful as well as the potentially 'Mac-curious,'" quips Ken Ray, producer/host of the podcast. "If it's Apple related, or even related to Apple related, I'll do my best to make sure you know about it. While I take the task seriously, I am not always 100% serious in the delivery. But isn't fun what it's all about? It just made sense for us to join forces because I really believe people want to hear a more straight forward approach to what's going on out there," states Ray who's inimitable style and sharp wit are both engaging and professional. "We are all very excited about the potential for this whole thing."
In addition to the organizations involved with the podcast, the show's impressive airstaff includes author/reporter/producer, Laura Burstein, who is best known from her previous work on TechTV, Moblog Nation for TextAmerica and various key Mac news media outlets, The new show will be available daily and can be used by the Mac-loving public, user groups at their meetings, linked from their web sites and rebroadcast with proper attribution. PC fans are also welcome to listen in.
Subscriptions to "Mac OS Ken: The Macsimum Podcast," Macsimum News and The Apple Groups Team are all entirely free of charge, and access to their podcasts is available via all three organizations' web sites.
The first show will debut on Thursday, February 9, 2006 and is available via the following outlets:
Apple iTunes Music Store
http://phobos.apple.com/WebObjects/MZStore.woa/wa/viewPodcast?id=120867842&s=143441
Or direct download via:
http://libsyn.com/media/macosken/macosken060207.mp3
Or on PodcastAlley.com
http://podcastalley.com/podcast_details.php?pod_id=18835
Or the shows can be heard on KYOU radio:http://kyouradio.com 4:00 PM PST/7:00PM EST, M-F
About Macsimum News:
Originally breaking ground as Macsimum Perspective in 2004, Macsimum News founder, Dennis Sellers' twenty years in journalism and experience with writing for MacCentral, MacMinute and traditional print newspapers left him wanting to bring something different to the rapidly growing online media world. Celebrating their sophomore year with the addition of more notable writers, more than 15X the traffic of the initial year and having earned the respect of mainstream media, MacsimumNews.com now offers a better alternative to getting key Apple news as well as product reviews, entertainment news, iTunes music reviews and, with what is truly most important for Sellers, reader opinion polls. With successful video broadcasts (Vodcasts), live reporting and use of new and emerging technologies, MacsimumNews.com is a new look at the news without the fluff and politics of other news sites.
About The Apple Groups Team (TAGteam):
Founded in 1997 as "The Delaware Valley Macintosh User Groups" with the concept of bringing multiple user groups together for more vendor cost-effective presentations and community events, the organization evolved into "The Tri-State MUG Team" in 1999, "The Mid-Atlantic Apple & Macintosh User Groups Team" in 2002, and now becoming The Apple Groups Team with more than 80 groups worldwide and welcoming all user groups, vendors, manufacturers, developers and resellers. The mission: Helping to provide cooperation, collective efforts, camaraderie and FUN for everyone -- 100% free of charge.
About Ken Ray:
After more than a dozen years in professional broadcasting, Ken Ray was a lead anchor for TechTV Radio as well as air staff and producer for a "morning drive" country music station. As an engineer, producer and popular host of the daily Inside Mac Radio shows, his segments were self-written and produced. Now, with his creation of a MacOSKen.com, Ray brings his experience and style to Mac OS Ken: The Macsimum Podcast via Apple's iTunes, MacsimumNews.com and The Apple Groups Team's AUGmentations.
About Laura Burstein:
As a featured host, co-host, producer, reporter and correspondent on a wide range of news media outlets, Laura Burstein was the innovator behind the popular "Moblog Nation" for TextAmerica and appeared on ZDTV/TechTV, Inside Mac Radio, Inside Mac TV, ABC Evening News, The Wall Street Journal, The Mercury News, The David Lawrence Show, The Wizards of Technology and co-authored Leo laporte's Technology Digest. As both interviewer and interviewee, Burstein's knowledge of emerging technologies and her common-sense approach to reporting have kept her a favorite with both the media and her extremely loyal fan base.
For more information, contact:
Dennis Sellers
Macsimum News
or
Daniel East
The Apple Groups Team
or
Ken Ray
Mac OS Ken
or
Laura Burstein
NOTE: The Apple Groups Team (TAGteam) is not affiliated with Apple Computer. All trademarks are
property of their respective owners.
February 2006 is Podcast Month at PRWeb. This press release distributed by PRWeb, the Online Visibility Company.
###