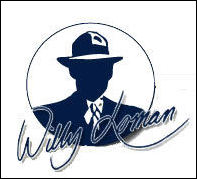 I sell to Human Resources personnel and the names and titles I get from WillyLoman.com are accurate and accessible.
Indianapolis, Indiana (PRWEB) February 9, 2006 –
WillyLoman.com is a brand new peer to peer business contact exchange site, designed to cut down the time sales professionals spend cold calling by increasing the quality of Rolodex entries. Because, as Willy himself said, "a salesman is got to dream, boy. It comes with the territory."
Based on popular social-networking sites in sales and beyond, WillyLoman.com works on a simple barter-based concept. Users contribute one business contact and get five contacts in return. These contacts are up to date and accurate, not the usual rag-tag collection of outdated contacts a salesperson sometimes has to rely on. All contacts at WillyLoman.com have been recently contributed by active site members. The result is a database of consistently refreshed, quality business contacts.
"WillyLoman.com is providing me 3 times as many pertinent contacts as Hoover's," Tony O'Neill Business Development Consultant, Performance Assessment Network. "I sell to Human Resources personnel and the names and titles I get from WillyLoman.com are accurate and accessible."
WillyLoman.com is also a boon to new or recent college graduates, who are usually starting with drive and enthusiasm, but not the best set of business contacts. Popular sites such as LinkedIn help maintain existing acquaintances. However, career success depends on an expanding network. Wily graduates can gain a definite advantage using WillyLoman.com.
"Since I'm just out of college, I know I need to transcend my current contact circle and WillyLoman.com is a great resource for helping in both job hunting and career planning," said Andrew Peters a recent graduate from Indiana University.
Using WillyLoman.com is a snap. Simply register at http://www.willyloman.com and immediately receive credits good for ten contacts. For every contact users share, the site will give them access to five more previously uploaded contacts. The site is fully compatible with Microsoft Outlook. Users can export contact lists from Outlook and, via plug in, post them directly to the site. The entire contact database is searchable by territory, by title, by industry and by the name of both contact and company. Results lists can be saved as a file that will allow users to seamlessly import contacts back into Microsoft Outlook or Excel.
Sign up is free. The payoff is in a bonanza of fresh business contacts that will forestall your death as a salesman.
Contact:
Bill Johnson
WillyLoman.com
317-844-2730, ext.102
# # #