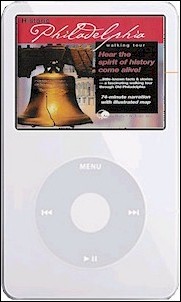 We're excited about our collaboration with the iPod and iPREPpress
Philadelphia, PA (PRWEB) February 10, 2006
This iPod walking tour now becomes another Philadelphia First:" It's the first to combine pictures and audio in a user-friendly, menu-driven guide.
This happened when AudioWalk & Tour of Historic Philadelphia joined forces with iPREPpress to bring its nationally acclaimed walking tour to the iPod audience. Since 1984, the 82 minute narrated walking tour of Independence National Historical Park has taken thousands of listeners back in time with little known stories that paint a colorful picture of life in 18th century Philadelphia.
Even before the iPod made touring easier, Travel Holiday Magazine said the AudioWalk is "the best way to see historic Philadelphia," and the Philadelphia Inquirer said, "It's a gem." Now it's all that, and more.
"We're proud to bring this leading walking tour to the iPod," said Kurt Goszyk, founder of iPREPpress. "Ben Franklin would have approved! The iPod is a powerful tool that makes learning history fun and more convenient to access. Bringing educational content to the iPod is a natural step in the evolution of iPod content. Given the popularity of the iPod among high school and college students and travelers of all ages, iPREPpress and ushistory.org give students a way to improve their educational and travel experience through audio and visuals on the iPod. We look forward to offering more educational tours in the future."
This narrated tour CD is still available for rent or purchase at the Independence Visitor Center and Lights of Liberty shop or through Independence Hall Association's website, http://www.ushistory.org. But now, anyone with an iPod can also download the tour and map for only $9.95 from http://www.ushistory.org or
http://www.ipreppress.com/Pages/Travel%20sub/phillyaudiowalk.htm
"We're excited about our collaboration with the iPod and iPREPpress," said Nancy Gilboy, the AudioWalk's writer and producer and the president of Philadelphia's International Visitors Council. "With the tour and map both on iPod, learning American history doesn't get any easier or more fun, and tourists can now plan their historic Philadelphia visit without waiting for the tour CD to arrive in the mail.
The iPod tour guide features the same audio content as the CD version and also provides photos, easy menu navigations with audio hyperlinks. The tour takes listeners back to the 1700's on a stroll along cobblestone streets, to an 18th century garden, to the home of a First Lady and the site of where a future King of France lived (listeners find out why he didn't marry the Philadelphia woman he loved.). Twenty stops with 65 narrated segments are included in the tour, with music and hundreds of fascinating facts. And of course, there's a section on everyone's favorite fascinating Philadelphian, Ben Franklin.
About iPREPpress
Washington Crossing, Pennsylvania-based iPREPpress offers best-of-breed content formatted specially for the iPod.
iPREPpress is the only company offering the SparkNotes Study Guides in text version from Barnes & Noble. It also presents travel guides, important national documents and access to sports and entertainment content for downloading to PCs and Macintosh computers via http://www.ipreppress.com. iPREPpress LLC is a privately held company founded by Kurt Goszyk, former CTO, Franklin Electronic Publishers.
About AudioWalk & Tour of Historic Philadelphia, Inc
The AudioWalk & Tour is the creation of Philadelphia's biggest booster, Nancy Gilboy, who wrote and produced the tour in 1984.
She re-launched the tour in 2002 in CD format and now in 2006 for the iPod. The tour CD and players continue to be available for rent at the Independence Visitors Center and Lights of Liberty shop for visitors without an iPod.
A life-long fan of Philadelphia, Gilboy has been President of the International Visitors Council of Philadelphia for 16 years. IVC is a "citizen diplomacy" organization that works in partnership with the U.S. Department of State. She has been Board Chair of Independence Hall Association since 2001.
About Independence Hall Association
Independence Hall Association (IHA) is a non-profit that created Independence National Historical Park in 1942 to protect and preserve America's history. In the 1980's IHA worked with commercial publishers to create guidebooks for Philadelphia. On July 4, 1995 IHA launched ushistory.org, a pioneer website offering American history and promoting Philadelphia as a tourist destination. During the first 11 months of 2005, this award winning website had 25,798,133 page views.
All trademarks and copyrights are registered and protected by their respective owners.
# # #